Soul searches, healing trips, modern pilgrimages, meditation time-outs, retreats...people are spending their holidays in some new ways these days.
My brother and sister are both big travellers, they've individually done some incredible soul travel from spending months in ashrams in India to holing up alone in the middle of nowhere in nature in Guatemala.
I haven't been to many of these soul search-style destinations but I've got my sights set on doing more of this travel in the near-future; the thought of it lights me up, always a good signpost pointing the way to go. So I'm researching and compiling my wish list of destinations, and I've asked my family and friends for some tips.
If you're looking for a break from your life, in a quiet, remote place to find silence and solitude, or in a town where spirituality is explored through conscious visitors and residents, in a retreat centre set up for healing or learning, or in awe-inspiring nature to re-connect with nature and your part in it all, here are some ideas...
☾
San Marcos, Guatemala

Image: Louise McKnoulty
In the highlands of Guatemala, with nearby Lake Atitlan at your side, the spiritual connection in the town of San Marcos is strong. Here you'll connect with nature; there's volcanoes and mountains all around, you can swim in the lake and hike the mountains. It's a spiritual place with a mix of expats and locals offering things like reiki, meditation, yoga, healing, silent retreats, life coaching and lucid dreaming workshops.
◯
Ok so I have already spent a lot of time in
Ubud
, but it remains on my wish list always to come back over and over again. This town is a refuge for those in search of something. A lot of people come here a little broken, open and humble, post-breakup, or after quitting a nine-to-five. They're taking a break from life or starting a new one. It's a meeting spot for the spiritual set and constant wanderers for sure, everyone is very open and friendly so you're sure to make friends.
You'll find abundant and cheap vegetarian and vegan food,
yoga
, meditation, reiki, breathwork, ecstatic dance, sound meditations,
vedic astrologer
,
high priestess
',
sacred gemometry
, inspiring talks and more.
☾
Camino de Santiago Trail, Spain

Walk the UNESCO World Heritage Site pilgrimage route walked by many from France to Spain up high in the hills, stopping in at quaint dormitories and BnBs along the way, connecting with strangers by night, connecting with yourself and your step by day.
The journey is best taken alone I've heard, many use it as a retreat for spiritual growth, a challenge to face themselves. If you're going to do the full trail, it takes about a month to walk the whole way, ending at the shrine of the apostle St. James the Great in the Cathedral of Santiago de Compostela in Galicia in northwestern Spain.
◯
Fairfield, Iowa

This is the Ayurvedic capital of the US, with the Maharishi University (Jim Carey gave an incredible graduate commencement speech here,
view here
) set up here, named after Transcendental Meditation (TM) founder, the Maharishi Mahesh Yogi.
The town was really built for the Ayurvedic lifestyle, there are Ayurvedic retreats here for panchakarma (detox program), houses face east to adhere to ancient Indian principles, and my favourite part, every day there's a traffic jam as thousands of the town's residents drive up to the giant dome (pictured above) to meditate at sunset. I was so astonished when I heard this place existed in middle America and I've pledged to spend some time here with my Mum one day. p.s.
Oprah is a big fan.
☾
Mcleod Ganj, India

Up in the high Himalayas in India's north at 1000m altitude is Mcleod Ganj, where India meets Tibet. It's home to the the Dalai Lama and Tibetan government in exile, along with scores of Tibetan refugees and monks.
People come here to see the Dalai Lama speak in person, to soak up the high vibe energy of all the monks and nuns walking around, to volunteer with Tibetan refugees, for the trekking, to eat tibetan noodles and momo dumplings, to seek out yoga, ayurveda, reiki and massage.
◯
Rishikesh, India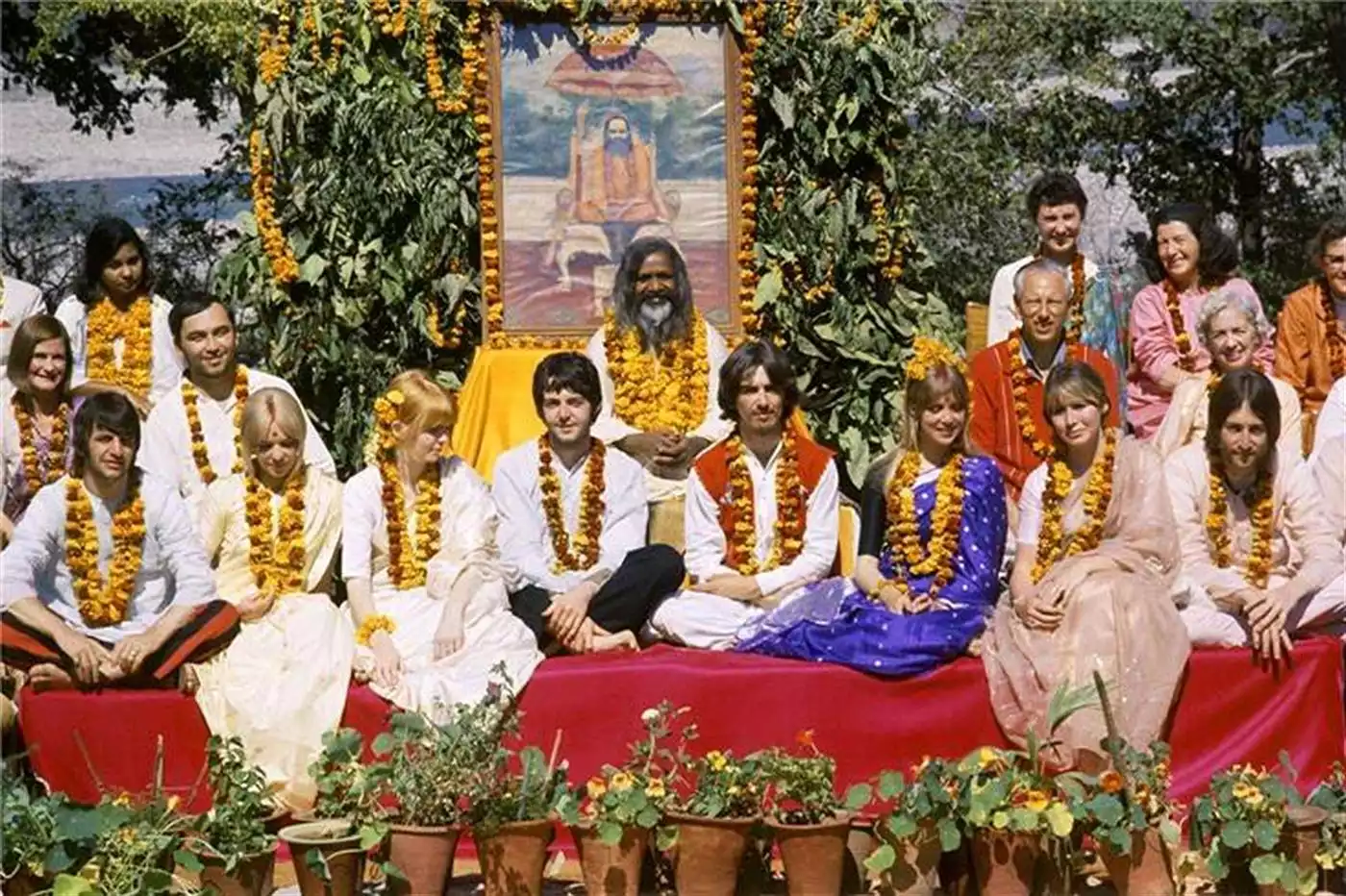 The Beatles visit Maharishi Mahesh Yogi in Rishikesh, India during their Transcendental Meditation Training in 1968
Some call this town in northern India the world capital of yoga. It's where the yoga teachers come to learn (there's a 105 year old yoga teacher getting around), you can live and eat very cheaply in ashrams, hotels or guest houses where your meals are mostly included, there's plenty of meditation too. It's a bustling city yes, but set in the mountains with the holy river ganges flowing through it, there are certainly places to find peace in and just outside the city life.
Some say Rishikesh has become something of a circus; it's been firmly on the tourist trail since the Beatles paid a visit in the late sixties (side note: this was said to be one of their most productive periods, so if you're looking for creative clarity, maybe this is your place). But as my friend,
Yoga with Alanna
put it to me, "authentic roots are still here, peace is still present and at the end of the day, a place no matter how it's changed is what you make it."
☾
Pai, Thailand

Image: Nomadasaurus
Based around a river in Northern Thailand, Pai seems to be a rural, much smaller alternative to digital nomad paradise Chiang Mai, and it's not far geographically either. Here you'll find a creative community full of artists, musicians, as well as yogis waiting to meet you.
The internet quality is excellent so it's perfect for digital nomads looking for somewhere quieter. To connect with nature there's rafting, trekking and cycling too. Oddly, a lot of Thai films are set here so the main tourists you'll see are Thai locals stopping by for photo opps from their favourite films.
◯
Plum Village, France

Just outside of Bordeaux in France, the practice of mindfulness is shared at Plum Village, the spiritual community founded by Vietnamese Zen Monk, Thich Nhat Hanh. A poet, author, peace and human rights activist, he believes the way to world peace is through each of us achieving inner-peace and mindfulness within.
With a mix of dorms and private rooms too, you can stay on-site at this retreat centre. You'll share delicious vegetarian meals (always in silence) and meditations with buddhist monks and nuns, be assigned working meditations like working in the garden, cooking or cleaning. You'll attend talks on Buddhism and meet people from all over the world who've come to live and breathe Thich Nhat Hanh's teachings.
Website >
☾
Gaia Sagrada, Ecuador

Image: The Curious Rambler
My family have a friend who works and lives here in Ecuador at this spiritual retreat centre in the mountains of the Andes. Gaia Sagrada is an ayahuasca and san pedro plant medicine healing centre; people from all over the world come here to attend ceremonies and experience healing.
Most attend a 12 day retreat which involves five ceremonies – ayahuasca, san pedro (a cactus from the high Andes) and a sweat lodge. Four local shamans administer the ceremonies, with volunteers (mostly people who've come for a retreat and never left) helping out.
You can stay in dorms, private rooms or apartments, all the food is vegetarian, much of it grown in the centre's own organic garden. Many people have profound healing experiences here and develop deep bonds with the group they share them with.
︎ gaiasagrada.com
◯
Kumano Kodo, Japan

The Kumano Kodō is a series of ancient pilgrimage routes that crisscross the Kii Hantō, through mountains, past waterfalls, under ancient trees, along rivers on a boat, stopping in at temples and shrines to pay respects along the way.
A UNESCO World Heritage Site, the full hike takes four to five days but you can go for as little as half a day if long hikes aren't for you. This is where Kyoto's ancient emperors once prayed to deities in the trees and rocks thousands of years ago. With the smells and sensations of the trees and earth all around and underfoot, I've read that you can't help but feel connected and at peace being here. There are hot spring hotels all around for pre or post-hike. You'll share the trail with Japanese pilgrims dressed up in traditional kimonos etc on the route too.
︎ More info
☾
Places or anything external can't be the thing that makes us happy or changed, of course it has to come from within. But I think a drastic change in surroundings, behaviours and habit can certainly kindle the fires for a change within that you just can't get as easily at home.