On The Road: Broadsheet Puglia Shoot
Last November,
Broadsheet
sent
Filippo Carbonari
and I on a road trip through Puglia to capture on camera the spirit of this ruggedly beautiful region, for the first in a new series of international travel guides they've just launched. Six towns along the South-East coast of Italy, the heel in boot-shaped Italy, in just three days.
For the guide and all the pics head here:
Puglia Guide
,
Eat
,
Drink
,
Sleep
,
Do
.
Here's a little diary of our few days on the road shooting and road tripping around Puglia.
We arrived in Lecce in Puglia, the sunnier, milder part of Italy, seven hours after we left our little home in Marche further North. We'd had days on end of cold, rain and fog that had left me feeling marooned in the clouds in our town on a hill. After the long drive, we put our bags down in our BnB room in Lecce. I immediately raced to the roof for sunset, the red flowers still in bloom and sunrays across the rooftops told me I'd definitely arrived in a different place from the one I'd woken up in that morning.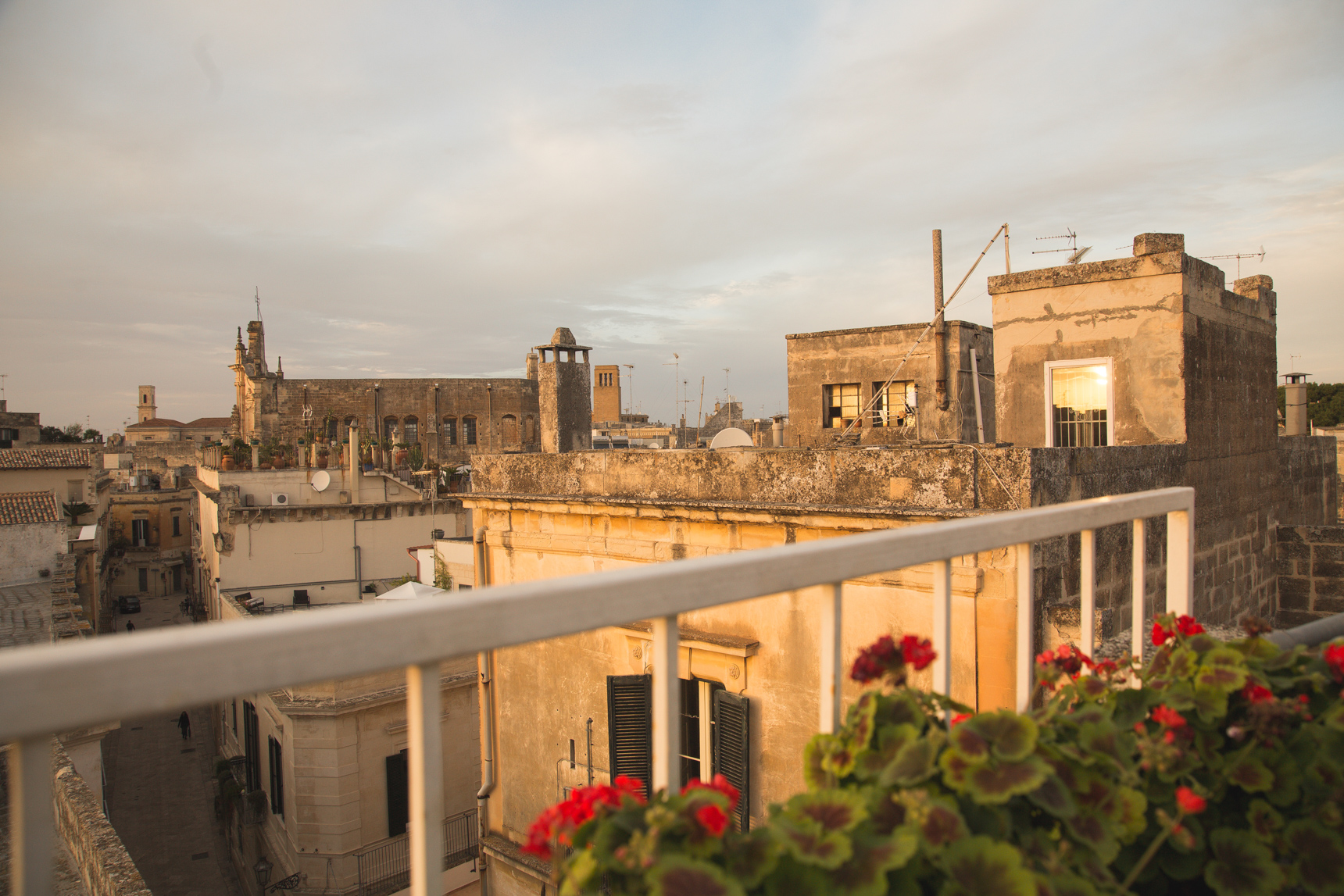 We set out that evening for the first spot on our list of places to photograph, Le Zie Trattoria, translated, The Aunties Trattoria. We were greeted warmly on arrival and given full run to photograph the cute homestyle dining room, with only a few tables filled so early in the night. We perched in the wings of the kitchen as the owner and head chef, one generation on from the original
zie
/aunties, got on with the serious business of prepping and cooking for the evening's guests.
Orechiette
(translated, ear!) pasta, typical of the region, deep-fried savoury bread donuts, octopus in
sugo
and glasses of red wine as big as your head, there was no doubt this food, this place and this
zia
were legit. Amongst the photo wall of celebrities who'd eaten at the trattoria, I even found a photo of Sofia Coppola with the owner, just saying...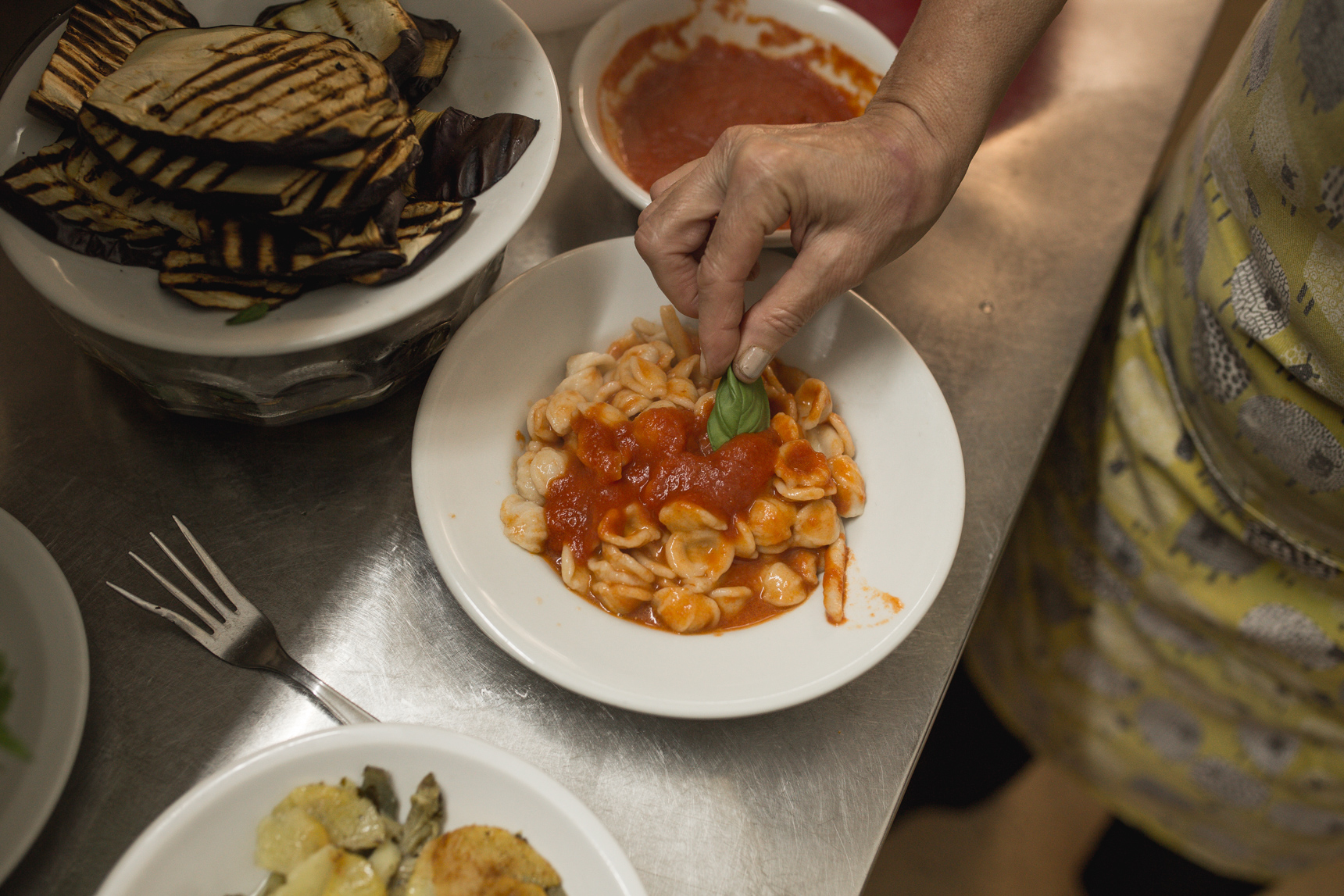 This first night at Le Zie Trattoria was the first of many occasions on the trip where we were invited to taste the food we were photographing; we learned that the restauranteurs of Italy love to proudly share their food. The trip quickly become a food "famil" of Southern Italy, for which we were so grateful and amazed, not to mention our bellies full to bursting at all times.
The next day we woke early and drove all around Lecce stopping in at coffee shops and restaurants on our shoot list, capturing beautiful, typically Italian scenes along the way. It was a Sunday and despite the grey day, everyone seemed to be out walking or sitting outside of the many cafes, sipping on coffees, no doubt many of them laced with liquor as is the weekend tradition in Italy.
Next, we powered on to a very curious, decidedly non-Italian spot on our list. Google Maps told us this cafe was just outside the city inside an industrial zone. We were sure we'd got it wrong until we pulled up, past the warehouses and factories, into a street teeming with parked cars and people. We'd arrived at Pasticcheria Obama, a cake shop/cafe dedicated to President Obama, complete with white stone bust of the beloved former president's head. The place was packed, a magnet for Sunday brunchers, eating pastries and downing coffee or Aperol spritzes, as well as the famous Obama gooey brownies.
The Obama brownie
We drove onwards to what would be our favourite spot of the trip, a little fairytale town on a hill, Ostuni. A maze of winding, undulating, skinny streets greeted us there, every surface covered in white stucco, punctuated by brightly coloured flowers and doors, all of those doors very much closed. The sun was fading at midday, the grey clouds settling in, the wind picking up, we were cold and rather miserable. We were also terribly lost. Our usually trusty Google Maps proving to be no help in a town with so many random little streets and no reception. No one was out on the streets, nothing much was open this time of year.
Our only guiding light was an old Elvis song blaring from a spot just above us. We followed the sound and realised it was coming from a garden courtyard, a restaurant, a warm and inviting place that just so happened to be the first spot on our list of places to visit in town, Coffee & More. We spent a while here warming up, taking photos, talking to the very cool local owners and eating lunch. Then we wandered the town, taking in and capturing these streets that looked so typically Puglian to us.
For dinner that night, we were invited to Masseria Il Frantoio, a five-century-old farmhouse turned organic farm, BnB and restaurant, to sample the many-course dining menu as we photographed it. At one point in the evening, I was ushered into the kitchen to photograph the loving preparation of our food behind-the-scenes, pre-warned that the all-nonna kitchen staff would be a little shy in front of the lens. We ate and photographed our way through tempura vegetable baskets, more orecchiette pasta, black rice salad, roast lamb and potatoes, ricotta cake as well as the
masseria
's own olive oil, wines and liquors.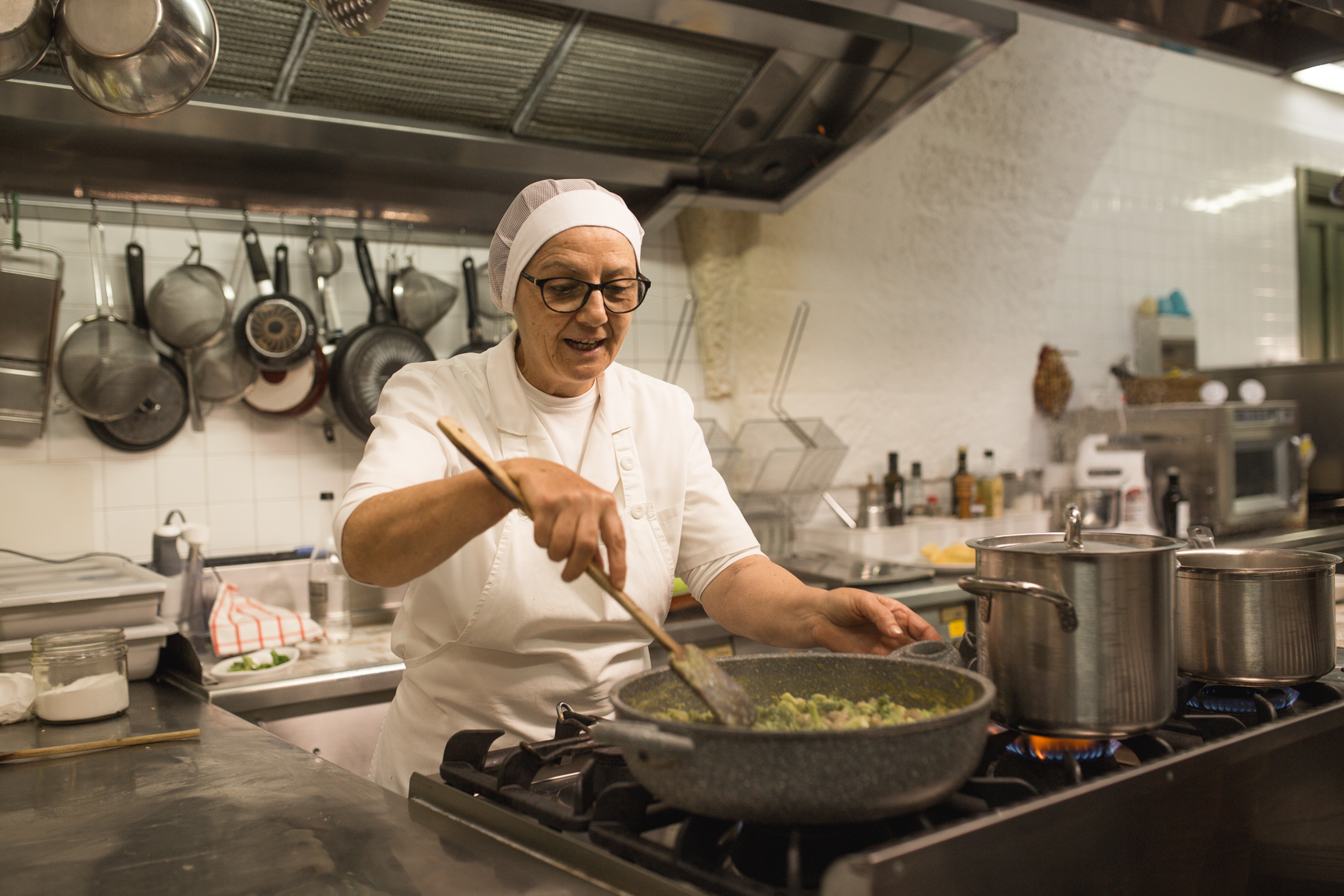 We woke up in Polignano a Mare on our last day of shooting to full sun, the first day of summer-like weather we'd had, exciting as we'd vowed to make these photos look as summery as possible and this weather was promising; Puglia definitely shines brightest in the sun. We made our way around the town's coastline, capturing the green-blue sea from every angle possible, sparkles of light glittering on the water's surface. At one point, a group of sunbathing beauties in bikinis taking in the winter sun arrived and stretched out their towels and bodies, they seemed to pose for us, so postcard perfect they looked there in that patch of sun in the sand.
After stopping off to photograph a seafood restaurant in Polignano a Mare, we drove North out of the city to stop by Alberobello to see the famous
trulli
, traditional Puglian dry stone huts with cone-shaped roofs. Basically I couldn't imagine anyone living in these magical-looking huts other than fairies or (friendly) trolls. You can spot these
trulli
huts here and there on the roadsides, baked into the arid land over centuries, skirted by cacti. But Alberobello is the mecca of Puglian
trulli
, where you'll find a little village with streets lined with them either side, some are still inhabited today we discovered – by people, not fairies/friendly trolls I can confirm.
Our final and one of the most impressive food stop of our journey was the ancient bakery in Altamura town. Here they bake loaves of bread as well as pizza bread inside a very old woodfired oven, the loaves comes out of the fire bigger than your head. We watched the bread coming out of the fire, customers coming and going, capturing the scenes as we went.
Seven hours drive later and we were back in our town in the North in time for bed, with several memory cards full of images in our pockets and a mountain of editing ahead of us. It's always so exciting to get home after the trip and see all the things you captured, the things that happened to you along the way.
For the full guide with all the places we visited and all the pics head here:
Puglia Guide
,
Eat
,
Drink
,
Sleep
,
Do
.
With love ❤
Katie xxx
p.s. Our roadtrip anthem...