Photo by Jim Rosemberg, on our friend's rooftop in Paris.
It's been three months here now in Paris, almost the longest I've spent in one place in over four years. And while this place has already made lots of my dreams real, moving here has felt like stepping up to a new level of the game. And there's new joy on this level but new challenges too for sure. There's so much to integrate and to understand after finally putting my bags down after four years of constant uncertainty and movement. But there's so much about France and Paris itself that challenges me greatly too. I didn't really realise or remember so well that choosing to play the next level of the game of your life means you get given new challenges too, things you haven't conquered yet but must, things that make you uncomfortable and make you expand in the process.
You see, while to start with, travelling and living a nomadic life presented many challenges to me, somewhere in there I started to notice that the very act of leaving a place after a month or a few months meant I got to skip certain uncomfortable things, I could avoid going deeper. I could put them in the too-hard basket and distract myself with moving on.
I started to become aware that my next great challenge would be to pick a place and build something there. And that this would see me grow and expand in the next incarnation of my life. That place was always going to be Paris I guess I can say now looking back. So I said yes to building something for myself in this city and yes to looking all the reasons why this would never work right in the eyes. So here were all my reasons to be scared of moving here and all the things that have really happened in response, the easy and the hard.
*°*°
I don't speak fluent French, yet.
I studied French at school and university, I studied ballet with all its little french words, I did exchanges to France and spent a few months here every year dipping my toes in the water. The French language was a part of my life on-and-off since I was about 10 years old and yet I still don't speak fluent French.
Centre Pompidou
I can't understand every sentence uttered to me in conversation. I make mistakes speaking this language all day long, most of them hilarious, apparently. I have trouble understanding French men (when they speak I mean...?) because all my teachers were always female 😞. A friend told me recently it would probably be two years before I could go to a French dinner party and actually keep up with what the group was saying and fully participate.
Don't get me wrong, I speak French, but I don't speak fluent French, yet. The level of French to express most things you'd like to say, and have fun talking to waiters for two months of the year is far different from the level of French required to be a fully-grown adult in society here who has meaningful, in-depth conversations with ease. And that's who I want to be here. Committing to being here long-term means staring up from the fairly low rungs of a very long ladder at how many steps I have ahead of me until I am fluent. Taking on a second language is committing to lifelong learning.
Metro life, underground.
But for all my faux-pas and the ups and downs of learning this language, I've learnt so much already about humility, the beauty of imperfection, letting go of control and the kindness and patience of others that I know this is a challenge that's built for me. More on all this in another post soon because learning this language takes up a very big portion of my brain lately. I love it and I'm frustrated by it and I'm always thinking about it.
*°*°
I don't have a home.
I didn't have a home for the longest time. Over the last four and a half years, I just calculated I've lived in around 24 different apartments, houses, villas all over the world. And that's not counting all the many, many random hotels etc. either.
My little Paris room.
To finally have an apartment and a room I can say that I chose and I love with all my heart, that I didn't just take out of convenience, is the most relaxing thing I've done myself in a long time. I wake up smiling most days as the sun peeks through my gauzy white curtains and I sleep so soundly in my little bed in my little room.
To not have to move my things any time soon, to not have to lug everything I own up and down staircases and through airports and into the trunks of taxis, to not have to relearn new routines and favourite shops and restaurants, to finally invite people over and cook for them, it all feels so good after not having this stability for such a long time. And it all adds up to more energy and lightness in my life. It's what I need right now.
The light streams in to our apartment.
It used to feel impossible to me that I would find a place to live in Paris, a place that I could afford and love; this city is notoriously hard for finding apartments and rooms. Even when this place came up through friends I met in Bali, I couldn't quite believe it could be so perfect, I thought surely something would go wrong. But I'm here now and this apartment is doing for me exactly what I hoped it would, giving me a nourishing, soft nest to recuperate from all this travel and call back my energy and go out and do what I want to do each day in the world.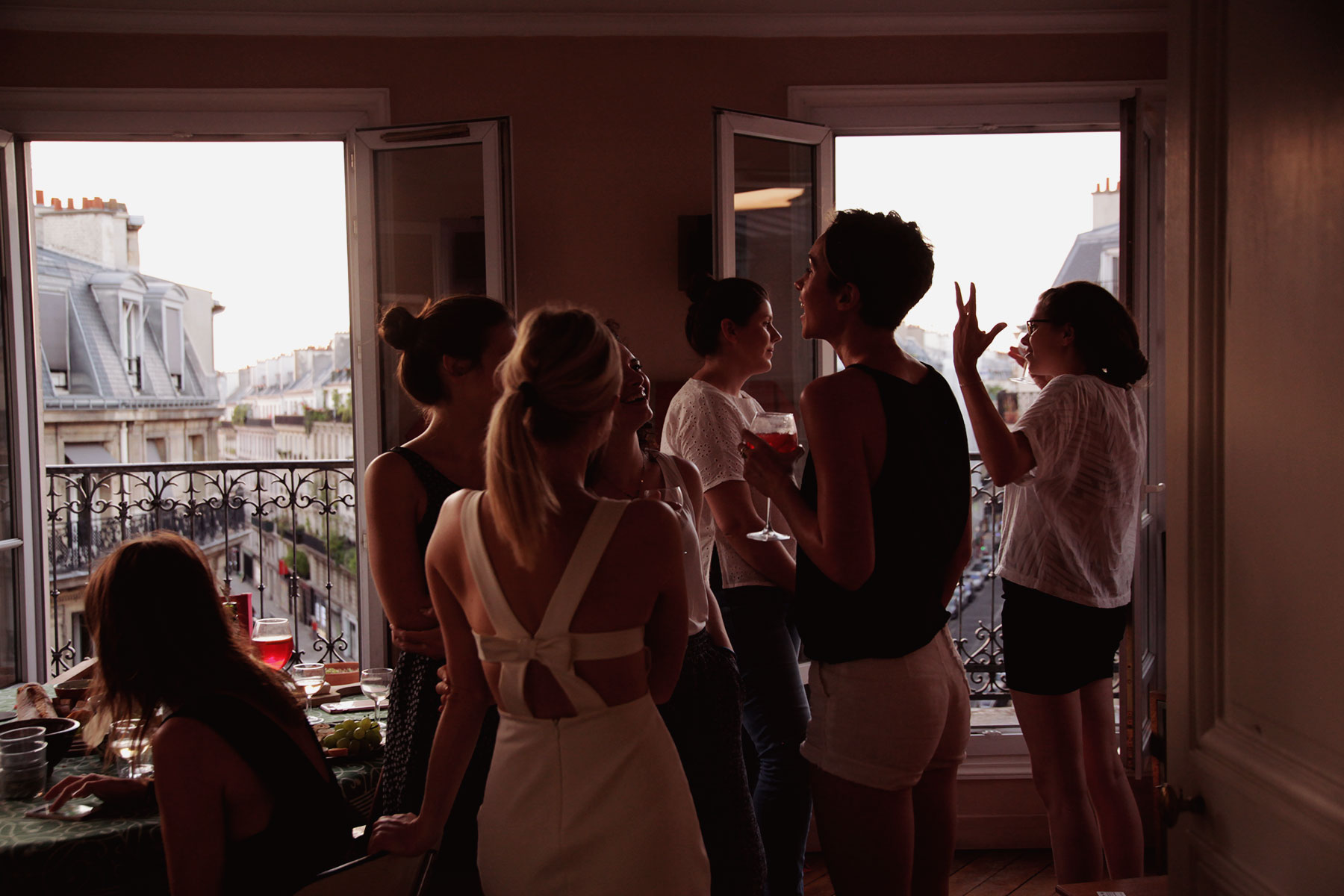 Sunset/moonrise drinks in our apartment.
*°*°
I don't have a job.
There are many reasons why having a job in your city of choice is logically a good idea, and I never really imagined properly moving to a big city without one. Namely, having a job means a) you have a
place
socially in your little world b) you have money coming in. But I
do
have a job
and I've been building up this job steadily over the last four years as a freelancer in branding, marketing and social media. But I didn't always feel I had enough money doing this. And I certainly didn't think I'd be able to have these two things, a place and the money, here in this big city. But I do now.
I found my place, at this creative co-working studio of my dreams,
Bliss Studio Paris
. It's a feminine space, an antidote to the masculine, forceful energy of start-up culture seen in so many co-working spaces in Paris. The walls are painted soft pink and yellow and all the light from the outside world streams in through our second-floor windows all day. I love all the independent, creative people who work here alongside me every day. So I found my physical place.
Bliss Studio Paris
I always thought I'd never make enough money freelancing to live in a city like this one full-time, but I am. Sometimes things get a little tight but I almost always have enough money to do what I want to do. Luckily my tastes in restaurants and activities are pretty simple. So while I could never imagine making work 'work' here in Paris before, somehow it is. And it's getting better all the time with projects and clients coming up here and there. And when I look back, nothing of this work set-up is anything I could have planned out or controlled, it's better and it's crazy how it's all come to be.
Our favourite afternoon activities at Bliss include power naps and catching each other on camera taking power naps.
*°*°
I don't know anyone.
Over the last few years popping in and out of this city, I've managed to cobble together some of the most fulfilling friendships of my life. And to think I don't have to say goodbye to any of these people any time soon make everything sweeter. This mix of expats and locals I call my friends here, the ways in which I've met them all and the stuff we all share, the things I can see we're all supposed to teach and learn from each other are too wonderful for me to have ever seen coming.
Some of them are creative and expressive in ways I've never encountered up close before. My intimidation at this turned into inspiration and encouragement. To create things for the sake of creating, to put things into the world just because you think they're beautiful, that there's value in this and that there are plenty of people doing just this, having the courage to live a creative life, it pushes me on.
Some of them are from countries I've never been to before and cultures I know nothing of. They tell me things about where they grew up and the way things are back home, they act and speak and live in ways that make me see new perspectives on life, expanding my viewpoint wider and wider. The same goes for these French friends I've made, their way of looking at life is so different from the Australian one I know.
Some of them do work similar to mine, we share ideas and our struggles, work side-by-side some days, take on projects together we could have never done on our own.
All of them are supportive and openly loving and our relationships are fairly uncomplicated and almost always joyful. I feel as though I was meant to meet every single one of them.
Ula on Laurent's dreamy rooftop in Paris.
Bastille with Sun & Alessia after yoga one Saturday.
Paris café life with Ula; Velib city biking with Clare around the 12th.
Last drinks in Paris with Juan.
*°*°
I used to have this vision of my future self walking the streets of Paris like it wasn't a big deal, like I walked those streets every day and called this place my home. And I feel like I've fast forwarded to this point in time now where I am that woman, which is a weird and great feeling. It makes me feel as though the other future visions I have for myself, the ones that seem way too wild to ever become reality, are all just premonitions too if I can have the courage to keep moving towards them.
And that's the other thing about having arrived at this new, long-awaited moment in time, I can see all these new visions of the little world I want to create for myself that I've never seen before. It's as though I couldn't see any of them until I'd arrived here and checked this dream off the list first.
4am moon from my room.
So while I'm here and still amazed at what my life is right now, I can see this new mountain emerging that I'm supposed to climb too. There's clouds all around it so I can't quite make it out all the time, but it's there. So I'll enjoy where I am and keep peeking at these new visions from time to time too.
I don't want to present an unbalanced view of life here, it's not always glowing. I was sick and bedridden with the worst flu of my life for two whole weeks last month, I miss my Mum and my family at times so much and get sad at all I'm missing in so many people's lives, sometimes I get sudden onsets of the strangest social anxiety I can only attribute to being in so many new and foreign situations I don't understand yet. But all this and all the other little challenges that come up daily, it's all worth it because I know this is where I'm meant to be.
I promise to write here more often now I'm making better sense of everything that's happening around and within me. Write to you soon...
Katie xxx