What Led Me Here

So many signs were pointing me towards this co-working space in Paris over the last year. One of the founders spoke at a digital nomad event I found myself at in Paris last year,
Mutinerie
popped up on my Instagram feed all the time, in conversations, and when I arrived to apartment-sit in August, I discovered that this coworking space was practically on the same street as me. Synchronicities appeared again and again, so I emailed them and I went.
When you work alone and turn up often in foreign places regularly with no community or structure, you have to figure out ways to create these things for yourself. Mutinerie has been this community and structure for me since arriving in Paris in August – I have somewhere to go, somewhere I belong during the days to get my work done, I walk in the door and they know my name, I go to their evening events and get to speak French with friendly coworkers often.
Mutiny + Rebellion

The Mutinerie space is a little bit pirate themed, mutinerie (mutiny in english) is a pirate word after all, describing an all out rebellion where the ship's crew throw the captain and his old rules in the sea. And this is the spirit in which this place is run - traditional rules, bosses, hierarchies are thrown out to make way for a collaborative, independent, egalitarian place for people working for themselves to come together in Paris.
In 2011 three Paris-born brothers formerly working in finance and marketing threw the captain and his old rules, the corporate world, in the sea to create a space for freelancers, start ups and entrepreneurs to work together.
Before co-working spaces were a thing (there were almost none in Paris at the time), the three brothers noticed something shifting in the world. Freelancing, outsourcing, internet businesses were picking up, people were starting to work on their own terms and all these freelancers and entrepreneurs were free but stuck at home, in libraries or cafes, isolated and alone.
With Mutinerie, all these mutineers had a space to come together, to stage a modern revolution. The words to live by here are 'libres ensemble', translated, free together. It's a place for people who are free in their work to come and feel like they belong somewhere. They share resources, space, networks, skills and create a diverse eco-system of people, skills, experiences who can help each other out.
Here I find myself surrounded by friendly French and internationals too, there's a lunch room where everyone congregates between 1 and 2 to eat, on weekends a farmer's collective delivers orders of organic and local produce, weekly events range from English conversation classes, cinema nights in the basement, pétanque sunsets by the nearby river and skill sharing workshops too.
Coworking Pass To The World

Always with an eye to the future of work, Mutinerie is also one of the founding spaces behind global coworking membership,
Copass
, where paying a monthly membership fee gets you access to 500+ of the world's coolest coworking spaces. You can effortlessly flit between suburbs, cities, countries and always have a workspace waiting for you with built-in friends and coworkers too.
Mutinerie Village

The community here aren't limited to just working in the Paris space either, Mutinerie have their own country retreat an hour and a half outside of Paris where you can work and stay for a while,
Mutinerie Village
.
The thinking is, like everything with these guys, to question why we do things a certain way. Why do we still feel the need to live and work in cities? The city used to be the machine; it was where the marketplace was, then the factory, then the office. Now the machine is the Internet and it's virtual and it's everywhere. So why not take your life and work out to somewhere where you can breathe for a while?
There's a beautiful farm house with meals made using produce from the permaculture garden, dorms and private rooms, regular nightly camp fires and apple picking to get you away from your screen.
All Mutinerie Village images from various visitors, I'm yet to visit the space!
Image: Stefano Borghi

Image: Stefano Borghi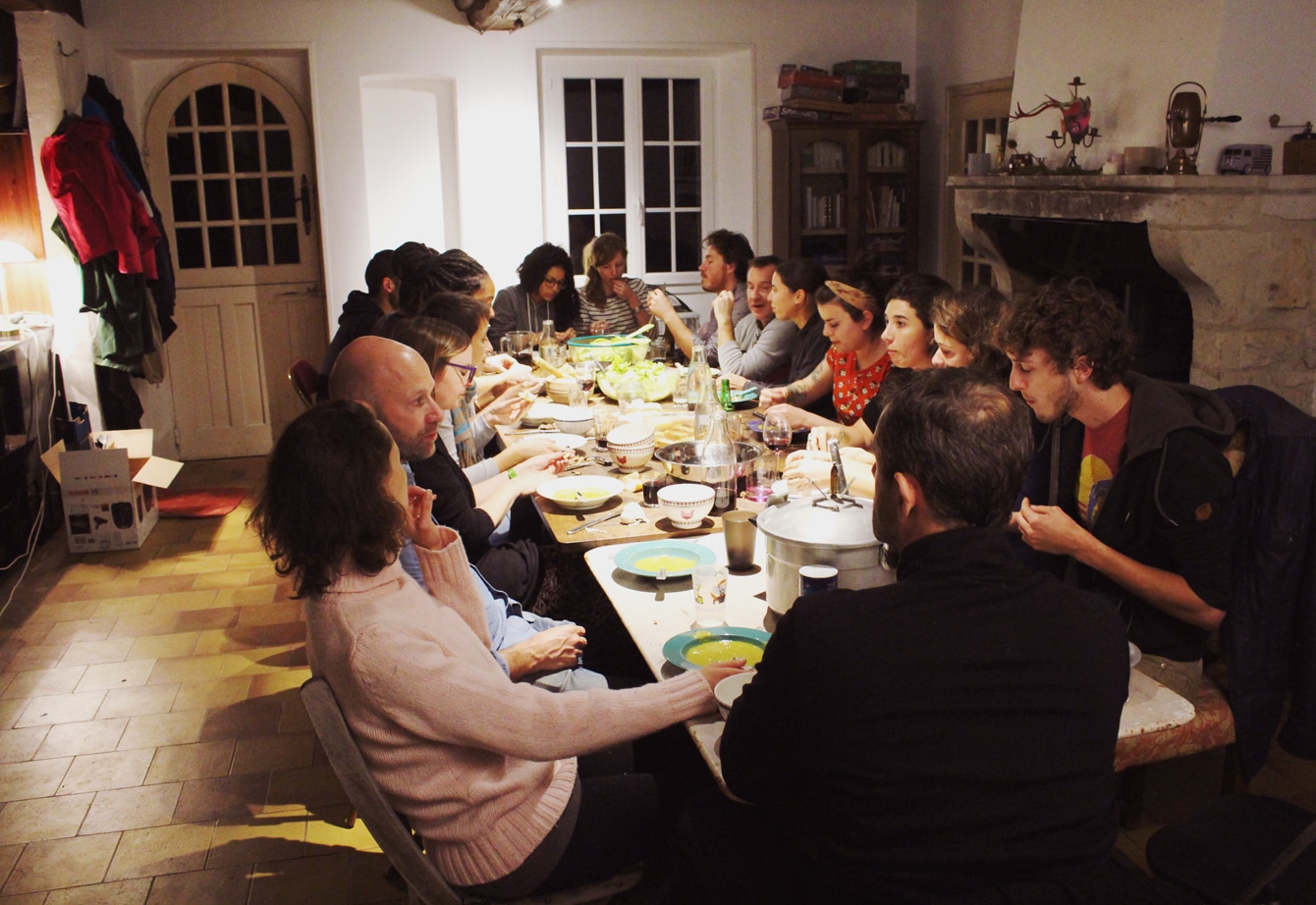 ︎ More on Mutinerie
︎ More on Mutinerie Village
︎ More on Copass