I know on Instagram Bali looks like a tropical paradise, and it is. But there's something more going on in the town of Ubud. Living here you get to test some new ways of living, where you brush up against nature and entrepreneurs and digital nomads and yogis and local Balinese people and culture. There's a movement taking place, an experiment, testing new ideas of how we can live and thrive and be happy and do what we were each put here to do on this earth. The life I live here for a few months every year is unique and feel-good and growth-inducing.
Let me explain the life of a digital nomad here in Ubud...
My days start early here, mostly because the roosters start crowing every morning from sunrise at about 6.30am. I think the days start early for most Ubudians but they emerge late from their houses for breakfast and doing things.
People take their time in the mornings, for yoga, meditation, spiritual practice at home or just lazing in bed or sipping tea slowly. This isn't a place to set your alarm and rush out the door, the mornings are considered and peaceful and there's no guilt for this.
*°*°
I eat my breakfast at home then hop on my scooter (my scooter rental costs about US$60/month), never before 9, for a morning commute quite different from the one I've done anywhere else in the world. I drive on the skinny path through my village and say 'Selamat Pagi', or good morning, to anyone I pass, butterflies flutter, palm tree fronds brush (ok and sometimes whip) my face and often there's a man or two bathing naked in the stream beside me so I avert my eyes and act like that's cool with me.
The drive to work then takes me past scooters carrying ridiculous things like bunches of metre-plus long bamboo poles, past rice fields in the sun. Sometimes I'm stuck in heavy traffic dodging big buses and tourists attempting to cross the road. I drive past the monkeys always eating something at the entrance to the forest and over pothole after pothole on the poorly maintained roads.
*°*°
I arrive at my workspace and settle in for a few hours. I recommend
The Outpost Ubud
. Digital nomads, entrepreneurs, freelancers come here from all over the world because this place gives us a way to be amongst people with new ideas, to believe that this change in the way we work is really happening, that we can really do whatever job we want, wherever we want. Here we can share resources and skills and stop feeling so lonely for a while too, something every nomad struggles with.
I find a spot to sit, in front of a fan preferably because it's Ubud and it's hot, people always say hi and often we'll take lunch together at the surrounding places to eat like
Sage
or
Mother
.
*°*°
Healer, Ibu Jero
If you're not working at a co-working space in Ubud, you're working on your wellbeing and I try to fit this in alongside work. This town is a mecca for every type of yoga but also every single other alternative therapy you've ever heard of too - sound healing, breathwork,
Balinese healers
, waterfall purification ceremonies,
astrology
, all kinds of massage, salt rooms, kinesiology, reiki, psychic surgery, naturopathy, meditation, craniosacral therapy, the list goes on and on. Strangely enough,
the sauna scene
in Ubud is big too.
This is a place where looking after yourself and your energy is not an afterthought or a remedy for someone who's sick. Doing things to improve your wellbeing is a valued, productive part of everyday life here. I have to believe that maintaining and even improving your energy over time is possible. I think it accumulates all these good feelings and lifts us higher, allowing us to go out into the world and do what we need to do with extra energy for it all on our side.
Sauna/bonfire/swim night at Dragonfly
*°*°
Raw plate at Moksa
Life in Ubud is about 90% centred around food, it's that good here. The cost of eating out is similar to cooking for yourself at home so most people eat out at least two meals a day.
There's vegan, vegetarian, raw, activated, Ayurvedic, Indonesian/Balinese/Padang local warungs, Indian, Mexican, Italian, just basically everything your heart could desire. There's even a vegan ice cream that's bathed in moonlight during its production. That's a thing here. And it's all fairly affordable, US$5-8 for a meal is very doable and the local produce they use is very good quality, several places have their own
permaculture
or organic gardens out back. All this beautiful, nourishing, creative food makes me and many others very happy in Ubud.
Nasi Campur at Bali Bunda
*°*°
I come home after work, sometimes at 5, sometimes much later, to a big room with an ensuite in a very nice villa in the rice paddies with friendly people for about US$600/month. I think US$300-450 is easily done if you take a longer lease of 3-6 months+ though.
The people I live with are my dinner companions, the members of my scooter gang, we go to the spa after work, for walks, for drinks, for weekend or day-long adventures. This automatic friendship with a bunch of people is something you don't get so easily in other places. Settled people have jobs and friends and family and lives and they're busy with this. The nomads Ubud attracts are usually travelling just as solo as me, looking for people to get to know and do things with.
*°*°
And in the midst of all this, Balinese culture is ingrained and visible all around you, every day. The Balinese seem to be holding on to their traditions despite all the westernisation, visitors and expats on their island.
There's the lady who brings the offering baskets to our doorstep most mornings, the family temples at the entrance to every home, the traditional dress for temple ceremony days seen on the back of scooters most weekends, it's all around you, very beautiful and something to be admired.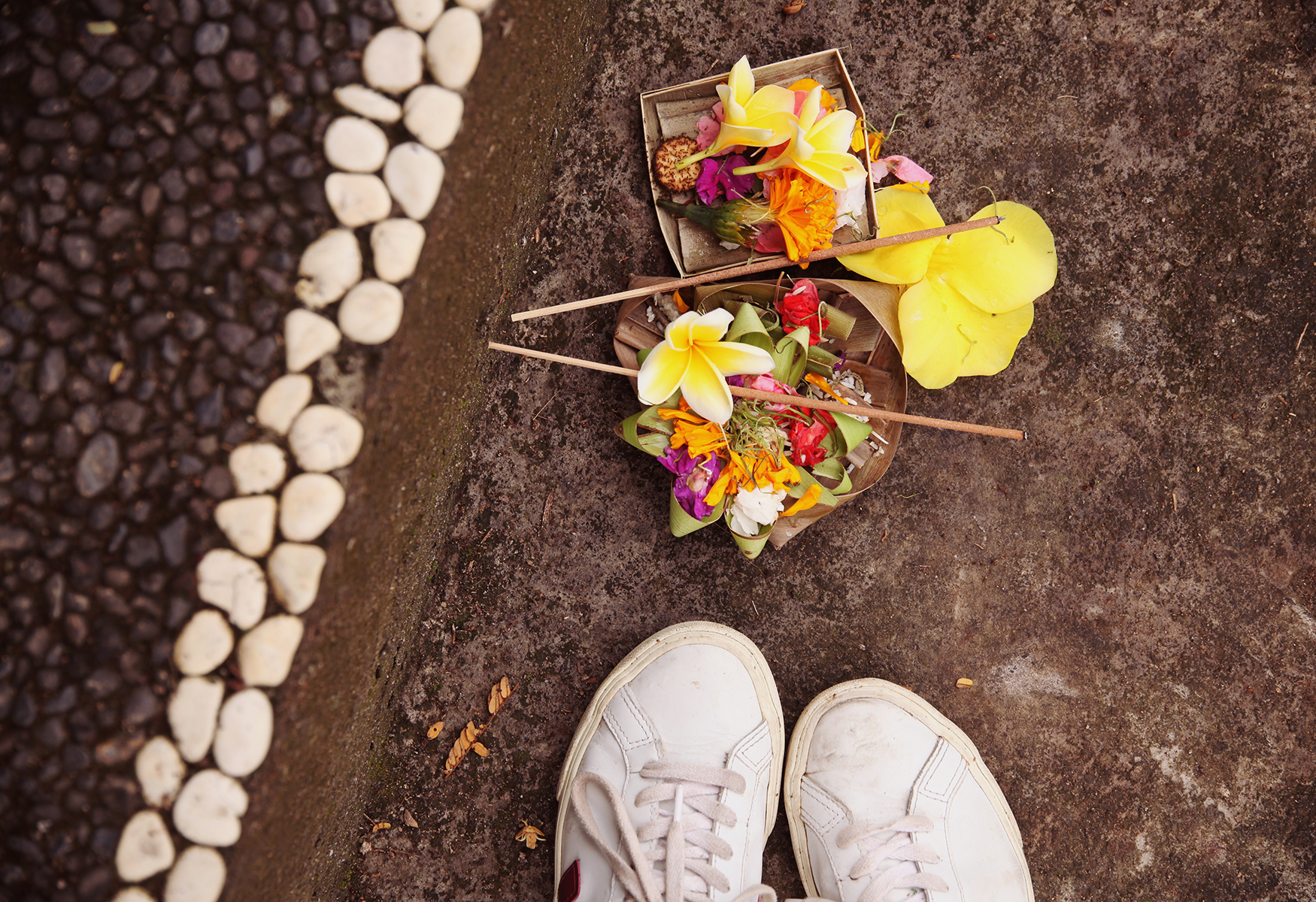 *°*°
I've never lived somewhere where you're so completely immersed in nature as you are in Ubud. Water, fire, earth, wind, it's all there. This place is about bare feet, bare skin, bare face, there's nothing between you and the natural world you live in. Sudden onsets of torrential downpours leave you soaked and walking/riding around in the rain often, the rain feeding the green all around you.
You scooter with your face and body out in the open air and the sun, along roads and up hills framed in green with vines hanging so low they almost brush your face as you pass. Shoes are very optional and most people wear flip flops so they can take them off easily and often.
As I walk the path through the village to our villa, butterflies follow me home and toads hop away from me at night (flashlights are essential for this reason). If this isn't real magic, the magic of nature, I don't know what is. All these little nature connections up close add up to an overall sense of wellbeing and connectedness.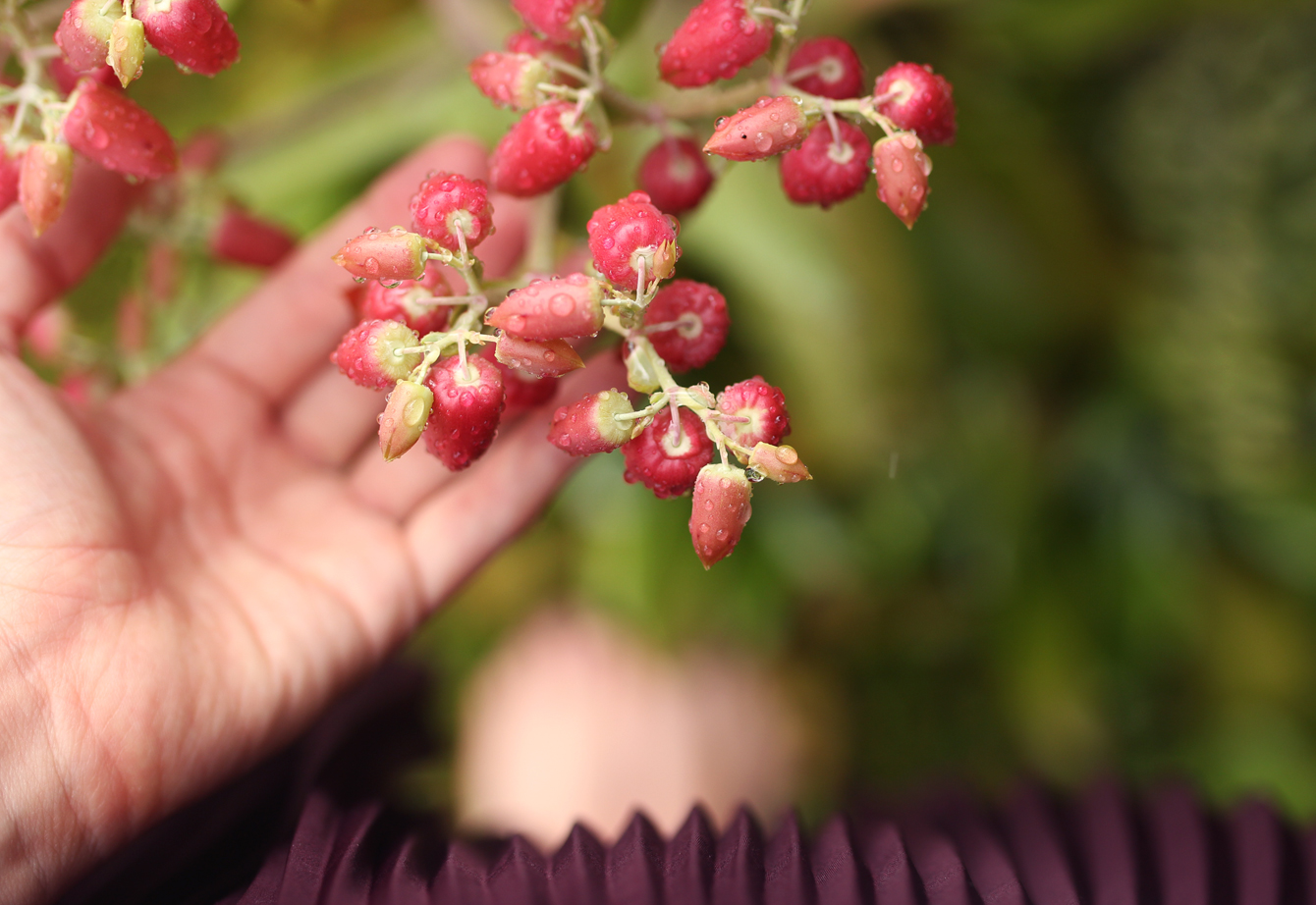 *°*°
The Downsides

So maybe I'm laying it on a bit thick, this living in paradise thing. But there are downsides to this place too, nothing is perfect and no place is going to give you every thing you need. There's the bad traffic and air pollution all through the town centre, the tourist buses dropping off and collecting big groups on a constant loop and the trash you see everywhere from the roadsides to the rivers (
this group is trying to fix that with daily trash pickups
).
Not to mention, there's the issue of expats, travellers, nomads, people like me, completely taking over a Balinese town for their own purposes, making western wages and spending Indonesian rupiahs in small amounts. I don't know how to resolve this one except to say that this is the reality here. Tourism is the island's main industry, the major source of income for the Balinese, so while I don't know if it's ethical, if it's what these people really want, at least we're contributing to the livelihood of the local people we live amongst.
While some people say that Ubud's glory days are over, that tourists, commercial yoga culture and places like the Starbucks on the main road have taken over the town, I just think a new reality has emerged. Entrepreneurs, travellers, tourists, yogis and local Balinese people have created a weird eco-system here that's holding together for now and attracting lots of people to this part of the world.
*°*°