Living as a Digital Nomad in Taghazout, Morocco
It was April, a few years ago and my digital nomad adventures were in full swing. I'd just come from a few months in Ubud, Bali and was headed to live in Paris for the rest of the year after that. After doing a photography/videography job together in Marrakech for a travel company,
Freya
and I took a long bus ride South to Taghazout to set up our 'office' for a week in the hippie surf town. We envisioned working during the days from our laptops, and enjoying the beach, the food and the vibe of this cool traveller town around that.
What we found was was all these things and more. We found that traveller vibe hanging by the pool at hotel Amouage and going to their poolside parties in the evening. The beach was beautiful and many hours were spent lying on our balcony admiring the ocean, sprawled out on a towel in the sand hoping the beach's resident camel wouldn't get too close and taking dips in the calm ocean with the long, wide waves.
What we didn't forsee was the local people we'd have the chance to meet and get to know in this town. We rented a house through
Ocean Surf House
and the guys immediately took us under their wing, inviting us to parties, coming round to check on us, giving us the number of their friend and driver, 'Mr Fantastic' (the only name we were ever allowed to call him). We met so many friendly locals too just hanging out at the local cafes and restaurants and even walking the streets.
At times I found Morocco challenging as a photographer; a lot of locals really didn't want their photo taken and I'd been so used to people loving me and my camera all over Asia prior to that. I learned to be more careful, take more general street scenes and to ask permission and really chat to a person before I took their photo, this was a challenge but something that opened me up to meeting a lot of people too.
Below you'll find all the details of how we spent our time in Taghazout as digital nomads.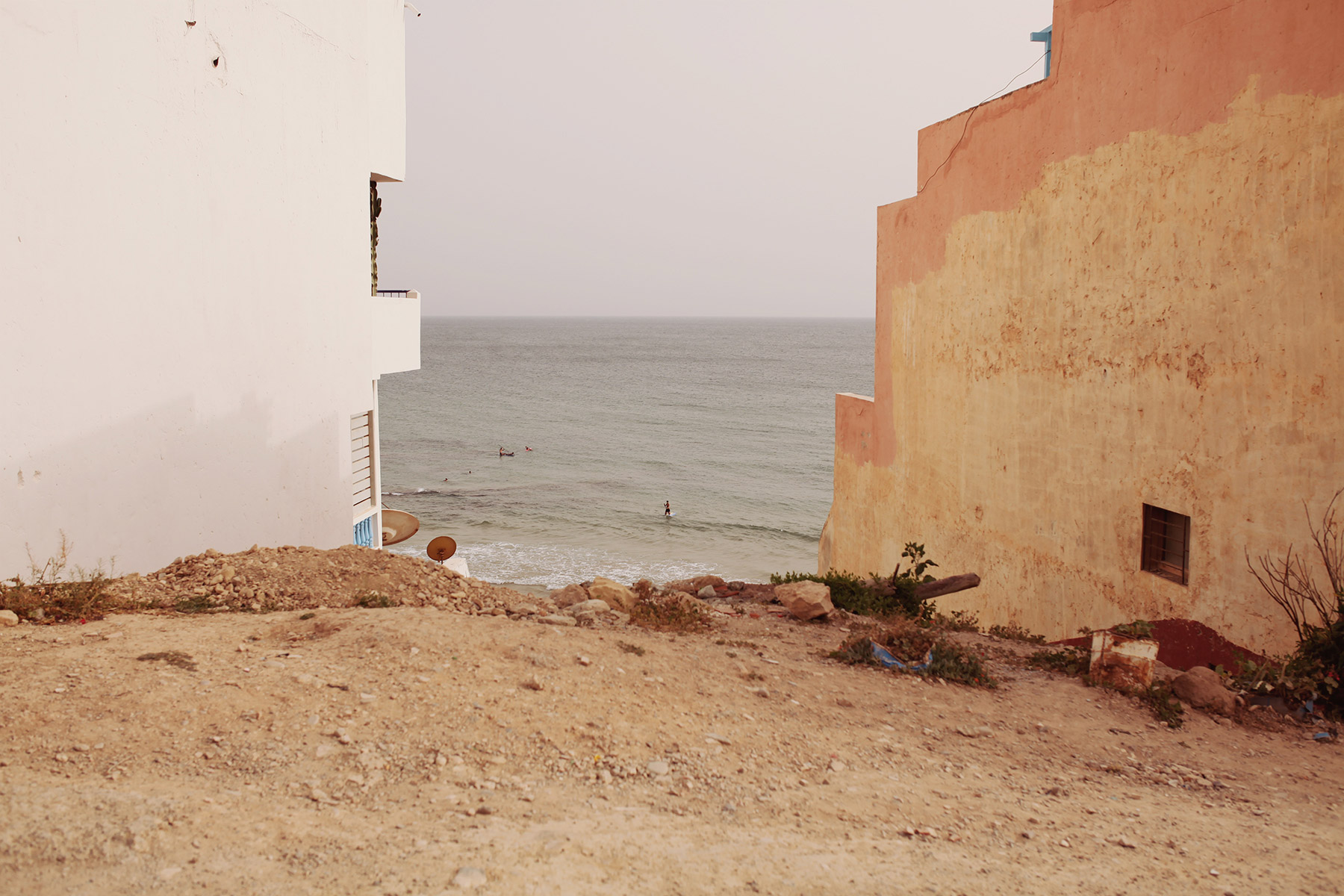 Our whole adventure with this jazzy song on repeat...
Stay - Ocean Surf House

We looked and looked on Airbnb and couldn't find anything that was just right. We ended up emailing Ocean Surf House, a really cool hostel in town, to ask if they had any unlisted apartments and it turned out they did! With experience looking for places to live in Ubud, Bali, I suspected it might be the same in Morocco, that even if everything is booked, most accommodation owners/managers often have some tricks up their sleeves and extra, unlisted apartments to rent.
They met us on arrival and ushered down one of the many white stucco alleyways to a door with crumbling green paint. Up the stairs, they opened the door to our apartment and the light flooded in. We rushed out to the balcony – still a little "under construction" but safe and good enough for us – and gawked at the view. 'Perfect', we said. And there in our little nest with the good wifi and the kitchen table to work around we did stay.
Amouage
also have hotel rooms, villas and apartments for rent,
SunDesk coworking space
have rooms and I'd of course recommend looking at apartments on Airbnb too!
︎ Ocean Surf House
︎ Ocean Surf House on Facebook

︎ Ocean Surf House on Instagram
Looking down from our balcony
Coworking + Coliving at SunDesk

The whole reason we planned to come down to Taghazout was to do a coworking/coliving week at SunDesk but life and timing meant we had to make other plans! With an international conference having taken over the space at SunDesk for the week we were in town, we couldn't make the most of this beautiful space.
SunDesk is a beautiful place to spend a week, a month or even more doing location-independent work and hanging out with fellow digital nomads in a beautiful setting. Explore this as an option to stay and work from if you're coming to Taghazout!
︎ SunDesk
Souk – Aourir Wednesday Market
We asked our new friends at Ocean Surf House for a local market we could visit to buy food for the week ahead, the Wednesday market in Aourir about 20 minutes drive from Taghazout just happened to be on the next day.
This is not fancy souk with lamps and handbags and rugs. It's an outdoor market piled high with fruit and vegetables, as well as spices, nuts and a few surprises like popcorn, bread, honey and ice cream too. It was a great way to stock up on food for the week and not spend all our money going out for every meal. We also loved seeing the locals come and buy their food for the week too.
︎ Aourir Wednesday Market


Amouage

We hung out at Amouage by Surf Maroc a lot. We spent a morning being scrubbed down vigorously in their hammam, which then meant we could hang by the pool afterwards. We wandered between the pool and the beach below all day long, sampling food and drinks by the pool and meeting fellow visitors. We came back later that week for a BBQ pool party complete with DJ where we mixed with other travellers too and met some cool people.
︎ Amouage by Surf Maroc

And playing on my headphones that day whilst I hid from the sun's rays...