Interview: Dan Smith, The Corner Palm
Dan, co-owner of The Corner Palm coworking space
Our interview series tells the real stories of people living a life of their own design, as a traveller, digital nomad, freelancer, entrepreneur or expat, in the hope that their stories inspire you and provide some pointers to creating a life of your own design, whatever that may be.
*°*°
My interest in co-working spaces has always had less to do with the walls and the floors and the physical space they occupy and more to do with the people and ideas you find within them. So often I discover that these spaces are housing mini-revolutions, movements, they're the physical manifestations of a new belief system, new ideas, and they're magnets for people with all kinds of interesting life stories doing interesting things. This is what I was reminded of during my visits to work from The Corner Palm co-working space in Byron Bay over the last few months in Australia.
On extended visits to see my brother in Pottsville
, I'd drive down a few days of the week to work from this Byron Bay space whenever I could to soak in the good vibes.
Set up within Byron Bay's Arts & Industry Estate, the space's neighbours include health food stores, cool cafés, local fashion labels, other co-working spaces and more. The Corner Palm does sit on a corner in the Estate, a sunny one with a big, leafy palm, catching the light every morning. The space is fit-out in mellow blonde wood and retro brick, oranges, browns and yellows, a seventies vibe to match the chilled out atmosphere you feel and slip into so easily when you're here. And that feeling is intentional, exactly what Dan Smith and his partner Nat Woods were seeking to create when they set this place up just over a year ago with Nat's brother Sean.
*°*°
On How They Came To Set Up This Space
Dan:
We set the space up because we were freelancers and we were looking for a space to work that was outside of the house. But we wanted a space that kind of fit our values and our vibe, and all the other coworking spaces just seemed pretty tech focused. They were all about 'start-ups', 'rapid growth', 'networking events'...
Katie:
Yeh! What's that thing? Incubating!
Dan:
Yeh everybody's incubating but we didn't want to be incubated. We just wanted to be able to hang out with people and work alongside people but just as friends and get the same benefits but it's just so much more natural and relaxed, and you're making friends. Imagine going to work every day and the whole office is just full of your friends.
And I get to work with Nat every day! It's like (when we work in a regular job/office) we have these relationships with the people we love and we spend from 8am to 6pm away from the people that we love so it's like, woh, I get to hang out with the person I care about all day every day, what a dream! And we get to meet so many great people coming through too.
The Corner Palm isn't the only thing Dan and Nat are working on, they work across a few different endeavours to make it all work, as so many freelancers do. Dan's an accountant by trade, Nat's a marketer, together the two freelance in their professions as well as running their not-for-profit,
Clean Coast Collective
(
on Instagram here
), producing plastic-free lifestyle products like toothbrushes and straws that fund clean up expeditions all over Australia's coastlines. Other cool opportunities pop up here and there too, Dan's currently doing some tour management for a Byron Bay-based musician.
*°*°
On Balancing Everything as a Freelancer and Nomad
Katie:
So you guys are just making money wherever it comes in and balancing that?
Dan:
We kind of just balance everything, it's pretty common in this area (Byron Bay), everyone just kind of pieces together whatever they need to do to just live down here. It used to stress me out a bit but now I kind of have just accepted that that's my reality so yeh even now I'm actually doing this other role as a tour manager.
Things just pop up and we just flow on, I've given up on having any kind of theme to my life. I'm just going to live and do whatever I need to do and I've kind of become a bit more comfortable with that lately. So this space just makes it really easy to do that because people just come in from all different backgrounds and these different opportunities just seem to present themselves in a really natural kind of way.
Katie:
So when you say you've given up on having a theme to your life, did you feel like you had to have a theme in order to present what you do to other people or to have a more certain income.
Dan:
Probably a bit of both, because it is actually really hard when people ask you what you do...
Katie:
I know! I dread that question.
Dan:
Same it's so painful. I kind of tailor it to who I'm talking to and what they want to hear and what they're most likely to understand. I hate that question. But yeh it's a lot easier if you have that one thing or you have some sort of general theme or trajectory in your life. And that's how we think as humans, upwards and onwards. It's a really western concept of moving forward and upwards, it's annoying from that perspective.
*°*°
On Freelancer Versus 9-to-5 Life and Wages
Dan:
In terms of money, it's nice to have a wage every week. But everything in life is a trade-off, so I might not have that stability of a certain income every week, every month but I have the flexibility to take a few hours off and hang out with my parents if they're here or look after a friend who's going through something one morning on a weekday. All of that makes it easier to justify not having a regular wage coming in.
Katie:
Do you feel like you have to become comfortable with uncertainty living this kind of life?
Dan:
Yeh. And that's hard. And I still don't feel 100% comfortable with it. But yeh I don't know, maybe the less you think about it, the more it (money) will come to you. I think I've just kind of gotten to the point where I'm just tired of stressing about it, I'm just like, I can't do it anymore, I can't stress about this anymore.
I've been in and out of jobs for about 4 years. I come from the complete different background, I started in the public service in Canberra, the most structured, comfortable environment.
Katie:
So that sounds nice?!
Dan:
Yeh but what are you giving up? You're sitting there for nine hours a day, 48 hours of the week, pushing the hours away. Holy shit, why would I want to beg for the clock to go forwards and quicker, what a waste! So that's the trade-off.
*°*°
On Doing What You Really Want To Do
DAN:
It's almost like, you should just do what you want and then find a way to manage your feelings and your anxiety around the uncertainty of it all. A guy who comes in here regularly, he said to me the other day, 'Dan, just don't do anything you don't want to do.' and I really like that.
KATIE:
But that's so much easier said than done! But I like it too.
DAN:
Yeh I know but I just try to think about that now, it's like, why do something that you just don't want to do? You never really know what's around the corner so you've got to just cruise along. I don't even want to have a trajectory, I just want to exist and I want to be a nice person and I just want to live my life. I don't want to smash it, it'd be lovely, but for me, if I can just be a nice person, at least when I finish up my life I can say, 'I just did my best'.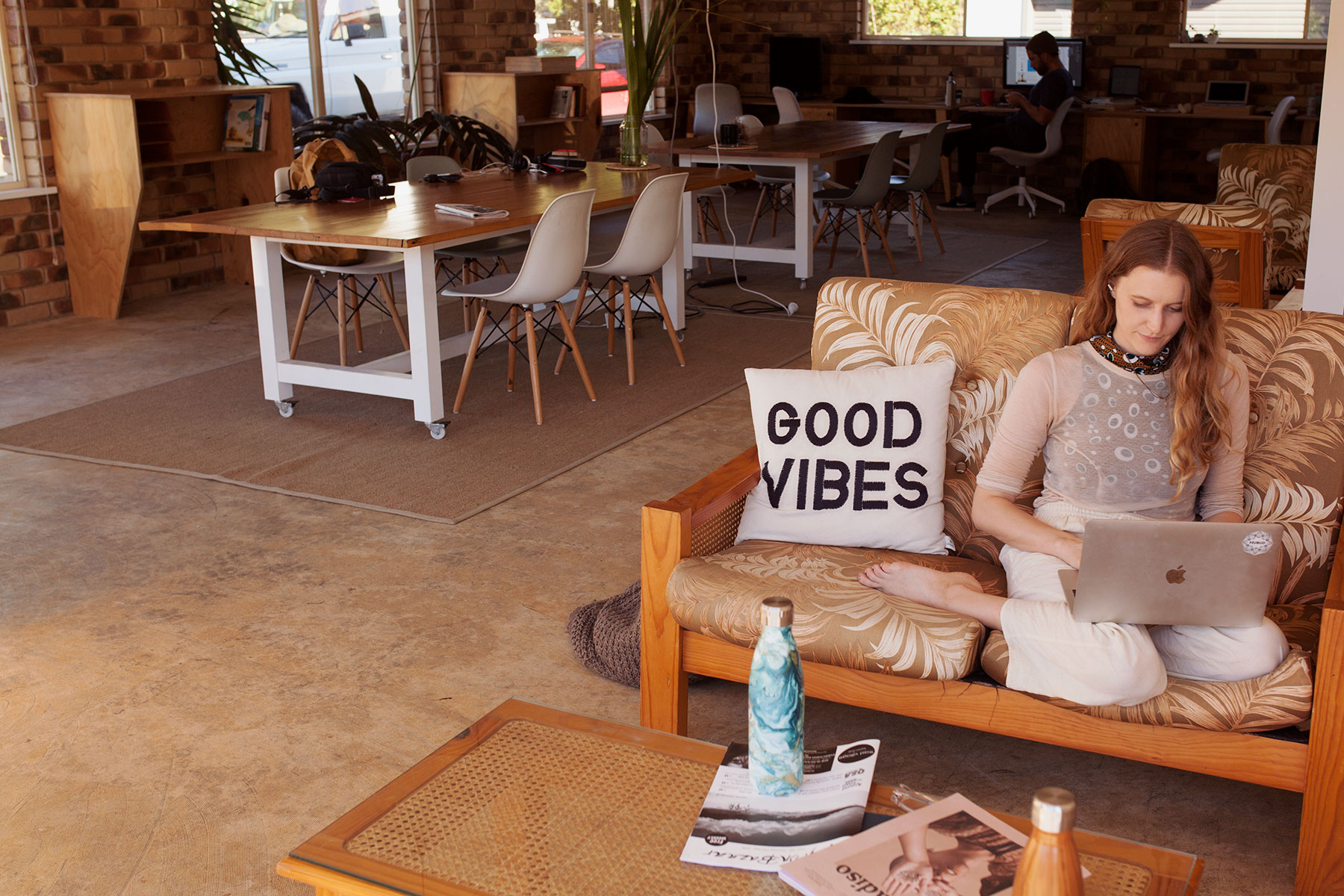 *°*°
On the Byron Bay Community
Katie:
So what kind of people come in to the space?
Dan:
Yeh the other day when you were in it was like a building site! Lots of people from the building industry that day. But normally it's just creatives who come in, we don't really get tech people, we get photographers, graphic designers, a dog nutritionist (😍), filmmakers, we have a dance therapist, and a lot of people who do a few things at once like we have a kinesiologist who also works for an investment company, we have a content specialist who also makes sustainable wooden surfboards.
Katie:
That's pretty cool!
So whilst
The Corner Palm
occupies a pretty cool little corner of Byron Bay with its seventies décor, it's the people who run it, the people who spend their working hours here, and everything they're creating here together that really make this place worth a visit if you're in the area and looking for somewhere to work from.
The Corner Palm offer full-time passes, monthly passes allowing you to come any 8 days in a month, a weekly pass if you're just in town for a week or daily passes, which is what I was using when I was working from here. Check out their
site here
and follow them on
Instagram here
.