What do you eat?

The food served at an Ayurvedic retreat is vital to your happiness over your time there. With not much else going on, mealtimes three times a day become the light of my life and the centre of my world.



I'd heard the food at Poonthottam was good and I'd heard right. I arrive first at the table to eat every day and love every meal that's put in front of me. With most of the ingredients grown on-site, every plate, or thali as they call it in India, served is made up of various small dishes neatly divided amongst mini steel bowls.

We eat buttermilk soup, daal (a lentil soup/stew), fresh salads, red rice, papadums, dosas (pancakes made from mung beans and rice batter), chutnies, vegetable subjis (vegetables stirfried with spices). To drink, there's herbal water a strange shade of deep red and fresh Kerala coconuts to be sipped from a metal straw.




The head chef takes requests and remembers our various dietary restrictions day in and day out. She starts to feel like a caring mother, giving looks of disapproval when someone asks for something they shouldn't be eating, scolding others for not eating enough, gleefully dishing out second helpings of her delicious food when asked.



What do you do all day?


The days melt into one another in a good way on a Panchakarma. I live the same blissful, indulgent day over and over again. My life takes on a different quality, where a focus on the self and doing only what I want to do in every moment around the light schedule of yoga, massage and mealtimes becomes my new normal. It's a feeling I've rarely experienced since childhood and wow, does it feel good; it's healing in itself.




There are rules you're supposed to follow, in order to maintain the unadulterated vibe of your stay: don't watch TV, don't work, don't read anything too violent or upsetting, don't engage in sexual activity, don't sleep during the day and don't snack.

So what do you do in the absence of all these things that usually fill our days?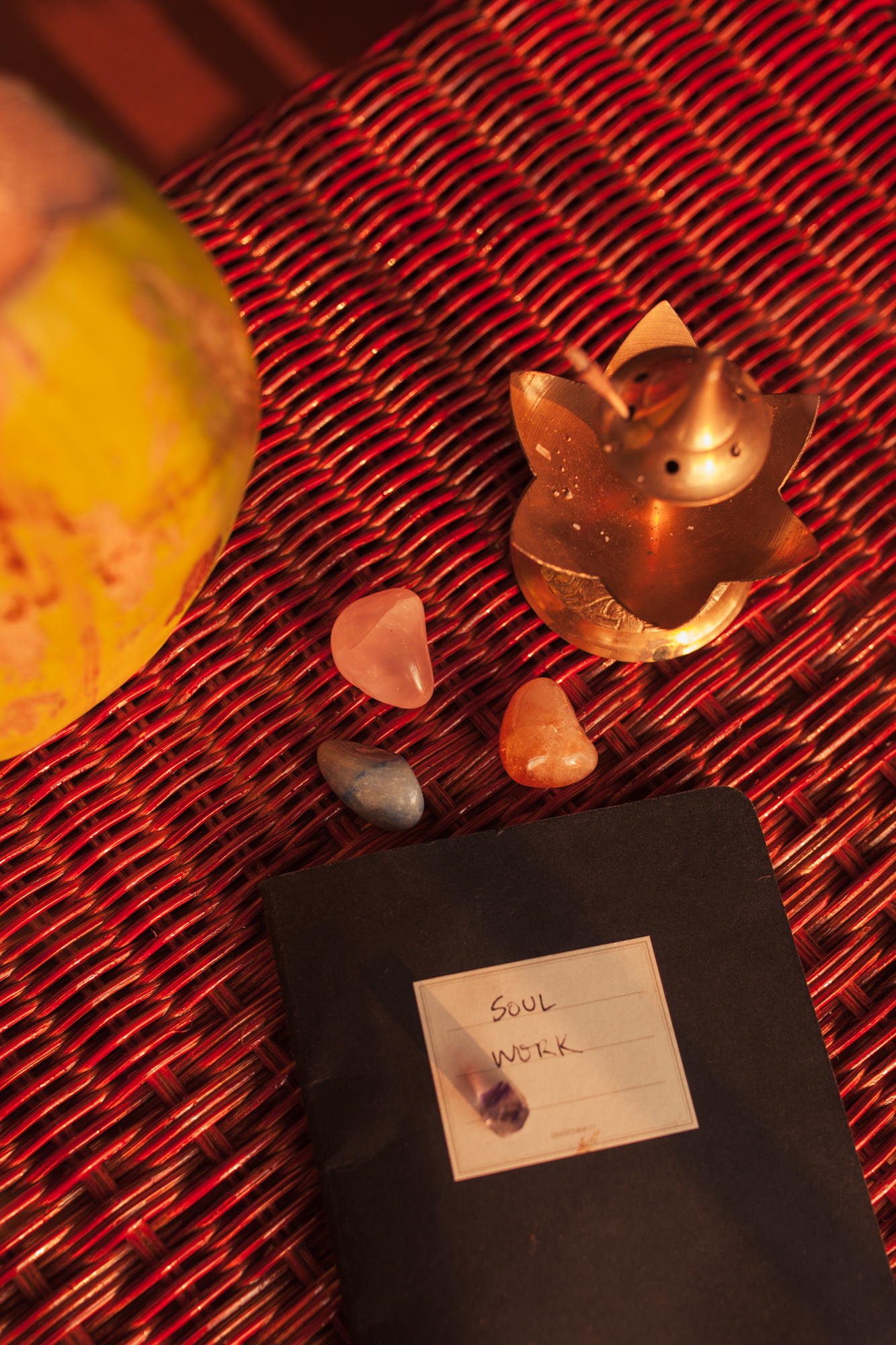 Treatments


Every day, once a day, in the morning, the same two female therapists come knocking at my door. They bring the massages to you here with a treatment room attached to your room.

There are various treatments prescribed by the doctor according to your imbalances and predominant doshas. I lie naked, except for a small disposable g-string, on a wooden table as the technicians pour hot buttermilk over my body in a continuous stream, pour hot oil over my heart and third eye in the middle of my forehead. One day, I sit in a sweat box with just my head sticking out the top.

One treatment everyone is prescribed is the abhayanga: a massage performed in synchronised unison by two technicians. With sweeping strokes over your entire body from head to feet and a herbal medicated oil, they push the toxins out of your body through your extremities, calming your nervous system and nourishing your muscles and organs.




The other treatment common to all Panchakarma programs is the dreaded basti, an oil enema, the subject of many a (thankfully) after-dinner strategy and FAQ session amongst guests. After weeks of preparing your body with yoga, light foods and herbal water, the moment will come when the technicians ask you to roll over onto your side so they can insert the enema tube. This is the ultimate detox and after a few not-so-fun ensuing hours or sometimes days where everything is flushed out of you, you feel incredibly clear and light at the end of the whole ordeal.

After every treament session, one of the ladies performs a blessing for me and smears a circle with a bright red powder in the middle of my forehead. It's a special and intimate moment and I thank her profusely every time.



Yoga and Meditation


Every day at just after and before sunset, a gentle yoga class is held in the main hall with a short meditation session afterwards. Never one to wake up with the birds in my real life, the effect of waking at dawn for the morning yoga class in particular, experiencing the quietness of this time of day has a very powerful effect on me.

I don't make it to every yoga class though and you're never expected to be there. Some days I prefer to practice alone in my room, going slow, lingering a long time on my mat, writing a little after my session.



Walks and Trips


Spending 21 days, eating three-meals-a-day with someone naturally sees them turn from stranger to friend. Some days are a little harder on a Panchakarma. Your physical body as well as your mental, emotional and spiritual bodies are all going through a deep cleanse and uncomfortable emotions naturally arise. You're all doing the same thing together, experiencing the same phenomenon and you can't help but form deep bonds by the end of it all. We listen to each other with open ears and offer counsel on everything from life to relationship to health issues.

We connect not only over meals but also through clandestine trips into town on the bus (you're not supposed to leave the centre), permitted gentle walks in the surrounding fields of green and the occasional (again, not recommended) movie night to watch something unstimulating like a nature documentary or a romantic comedy in someone's room.



My Russian friend and her incredible long ponytail.

Vedic Astrology Readings


Many of us jump to book a Hindu Vedic astrology reading when the opportunity arises for the Jyotish astrologer to come visit for an extra fee. The signs and system themselves are quite different from the Western astrology I know, nonetheless my reading is very accurate, personal and insightful.

I learn the Sun God in Hinduism, Shiva, is very important for me. I'm told to listen to Shiva mantras, songs, regularly and take Sundays off from work and housework. I'm unsure about the Sunday idea but immediately make a Spotify playlist after the session that I love listening to.

The most profound experience from this reading is when the astrologer walks me through the timeline of my life though. We go through all the years preceding the session, he makes sense of what happened to me, and why, at every age. He tells me about all the important periods of my life yet to come and what I will do, leading up to 80 years when I ask him to stop.

He divines my line of work and sums up my personality correctly and gives me tips on how to move forward. Although this astrologer is Indian and from a very different culture from my own, I still feel that he understands me and helps me to understand myself better, just from reading my chart and sitting with me for an hour on my balcony.





I mercifully start to sleep soundly and deeply again towards the end of my 21 days at Poonthottam. One of the doctors comes to visit me in my room to check on me. She tells me gently that in my case, she can see that the imbalances in my body are due to a too-chaotic lifestyle and by letting my emotions rule my life.

She tells me I need to learn to process them better, to not hold onto them and to not take everything so seriously. The pressure and stress is created and controlled by me. I can choose to change my lifestyle, slow down, take things more lightly and take the pressure off myself. It's something I take away with me and try to remember and live as much as I can now.




I believe so fully in the concepts Ayurveda promotes: making your health a lifelong commitment, not just something you only think about when you're sick. I believe the mind, body and spirit are always giving us signs. Illness, unwanted symptoms and imbalance are signs that something in our life is not working for us.

At the end of the day, it happens that we can get sick for no reason at all. We can't always control what happens to us. But I do believe that we can do our best to keep our health in check and to support ourselves to lead healthy, happy lives.

Doing an Ayurvedic Panchakarma allows us to live this unrealistically pure life for a few weeks so we have a good baseline to start from when we go back home. It shows us how good we can feel when we put the right things in our bodies and look after ourselves, so that we can go back to our lives and try to live a little in that spirit every day.

-

Poonthottam Ayurvedasram is located in Kerala, India, near Cherpalcherry in Palakkad. For more details, visit their website.