All I knew of Albania was that I didn't know much about it, and that's what enticed me to visit. What I discovered was a cool, old-meets-new capital, some of the most beautiful beaches in Europe, plenty of untouched nature, welcoming locals and UNESCO World-Heritage-preserved towns.

Photos and words by Katie McKnoulty
There weren't a lot of Albania-geotagged photos popping up in my Instagram feed or even very many articles on the travel websites I regularly scour. Nevertheless I'd heard good things from friends about Albania and the possibility of a short, cheap flight to the capital, Tirana, from my nearest airport in central Italy was all the encouragement I needed to book a trip with my partner, Filippo.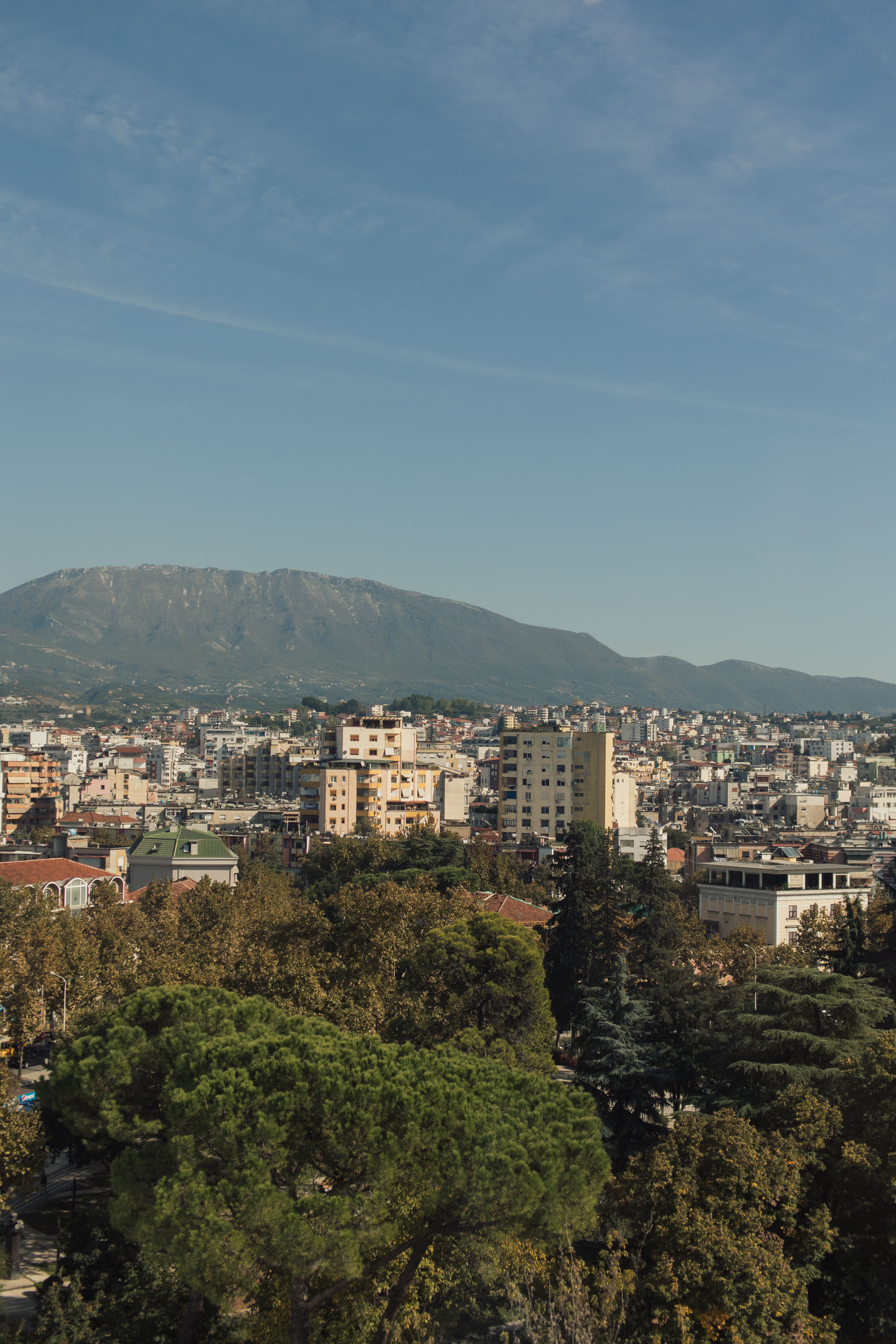 Views over Tirana city.
I had a suspicion it wasn't just me who didn't know much about this small country in the Balkans. For a nation that was closed to the world from 1945 to 1985 under the authoritarian rule of communist dictator Enver Hoxha, Albania remained near impossible to visit (or leave for citizens) for forty years. The word on travel here seems to have been relatively slow to get out since the 1991 revolution and the country's reintegration with the modern world.
Skanderberg square in central Tirana.
But that's a part of what's cool about Albania in the first place. As a tourist destination, it's not overly-popular, yet. And I never felt like one of the tourist masses here, more an anthropologist observing a culture that was, for me anyway, very foreign, having never visited a Balkan country before.
It also feels like a very unique experience to see how a country evolved under the shadow of such an oppressive government and how it's emerged since. Having been cut-off from the world for so long, the country seems to have retained its own cultural identity; visiting Albania feels like you're visiting another world and often, another time.
Our first stop on our weeklong roadtrip was the Albanian capital, Tirana, named European Youth Capital for 2022. Everything from accomodation to eating and drinking is affordable here and the city is filled with cool bars, brunch cafes and restaurants and museums and galleries aplenty, both old and new, staid and quirky. It's a hub for digital nomads and more adventurous travellers for all these reasons and more.

Day 1
Having arrived the night before, we wake up in our
Airbnb
just north of the river, between hipster neighbourhood Blloku and the city centre as all the spots I want to visit seem to be split between the two areas.
Left: Yellow October autumnal leaves from our Airbnb window.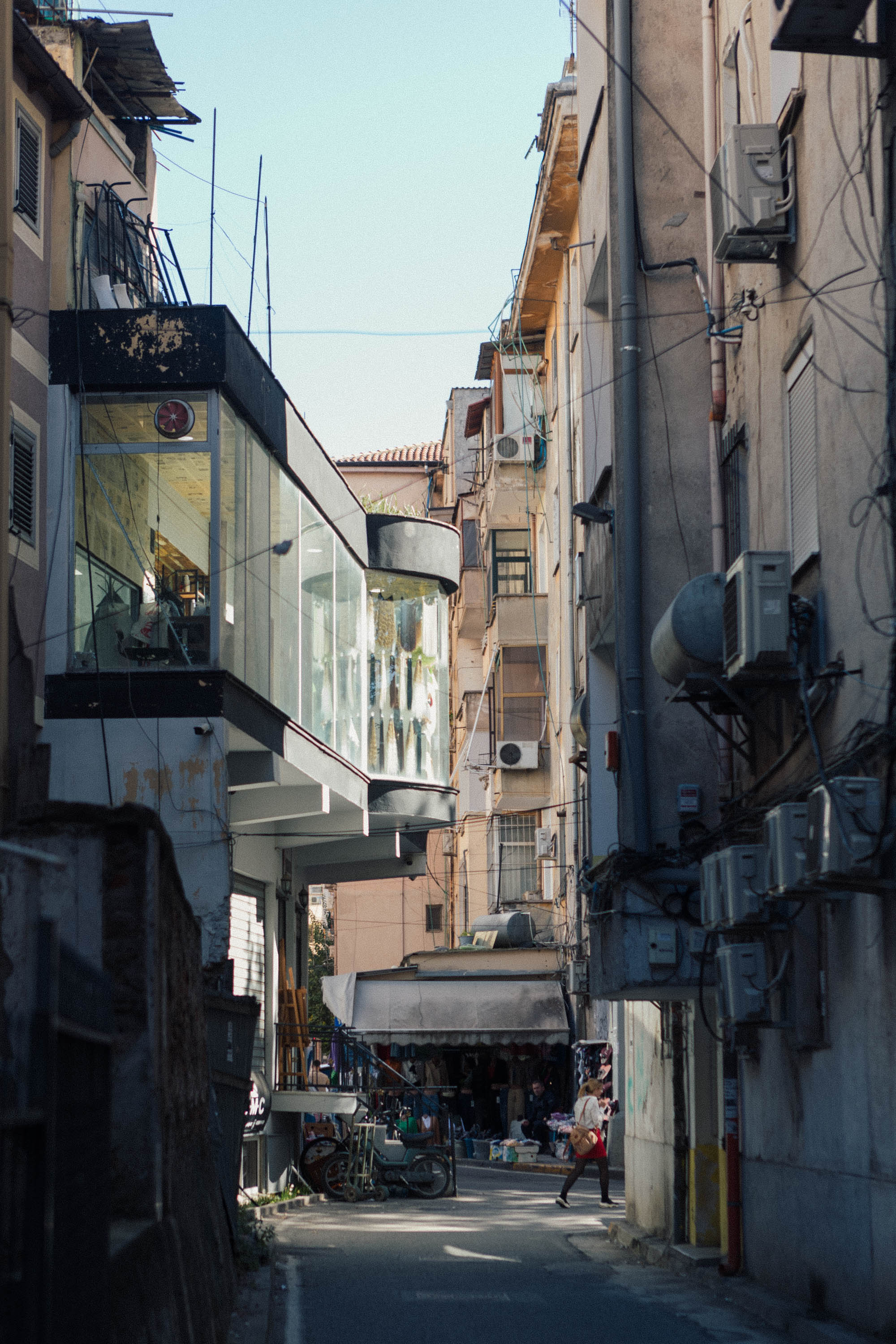 Our Airbnb down this little alleyway.

We start the day in
Skanderberg Square
, a colossal open plaza in the middle of the city. The sheer size of it strikes me with awe, the surrounding mountains backdrop the scene as they seem to everywhere I go in Tirana.
Skanderberg Square.
We head to the
National Historical Museum
to try to get a handle on Albania's complicated history. From antiquity (and showing off some pretty cool ancient artifacts—jewellery, ceramics, painful-looking weapons of war) through to World War II and the subsequent rise of the authoritarian regime, it's an interesting and at times strange museum.
Sometimes the captions are translated into English, sometimes they're inexplicably not. The entire 40-year dictatorship era isn't translated and we leave desperate for more information.
Even with this first stop at the museum, I can already tell this place is so far from a tourist disneyland; everything seems genuine, the overly-polished veneer often painted over tourist sites for the Western eye doesn't seem to be a thing here. And I think I like it.
The National Historical Museum in Skanderberg Square.
After a quick lunch at a cafe along the converted 13th-century
Tirana Castle
corso, we stroll along the pretty pedestrian street where I buy some tiny wooden spoons and then drool over the ceramics at
Porcelain Studio Seferi
, with a quick stop at
Pazari i Ri Bazaar
after.
Porcelain Studio Seferi.


Scenes at Pazari i Ri Market including, right, expired Albanian passports for sale.
Walking the streets, we pass stands holding underground-rave appropriate sunglasses, retro-looking postcards, men selling fresh flowers and used books and women roasting corn and chestnuts over hot coal braziers.
We giggle at boutiques touting clearly-fake gucci loafers and chanel suits brazenly in their window displays; we discuss whether the cheap loafers would make good house slippers.

We see graphic, modern architecture and brightly coloured buildings, as well as crumbling apartment blocks and precarious power lines that seem in danger of collapse.

Well-dressed older gentlemen in three piece brown tweed suits and hats stroll next to gen-z same-sex couples who wouldn't look out of place in Berlin or London. Tirana's specific flavour of old-meets-new, that juxtaposition you find in any capital city, starts to show itself to me.


We spend the afternoon at
Bunk'Art 2
in pursuit of the missing information on those 40 years of dictator Enver Hoxha's rule. Staged underground inside a communist era bunker, the eerie, immersive museum takes us through pokey, cell-like rooms one-by-one. Each details a different element of the regime's rule: secret police, propaganda, spying neighbours, major corruption, manipulated photography as evidence against "the enemy", torture and more. The bunker was designed and set up as a war room during those years but was never used, the decor remains untouched.
Left: Bunk'Art 2, set inside a disused underground bunker leftover from Albania's communist era. Right: The Albanian flag.

For our first night out, we head to the Blloku neighbourhood and have a drink at
Radio Bar
. I'm
pleasantly surprised when we're led to a pretty indoor/outdoor courtyard in back, past an impressively-stocked bar. I order the Al-groni, a negroni made with local botanical gin, it's delicious but very strong, I struggle to get up from the table after.
Stumbling next door to the Blloku outpost of
Era
, we reserve a table; the waiter tells us it'll be 20 minutes and it only takes five, another tick for this capital city. We order all the vegetarian options—baked haloumi, feta with roasted vegetables, hummus, yoghurt dip, rice and bread—as an introduction to Albanian cuisine and devour every dish with glee.
Day 2

We start the day, a Saturday, passing the very much under-construction
Pyramid of Tirana
, formerly the Enver Hoxha Museum, which is being converted into a public park and shopping mall. On the streets, there are lots of stalls open for business, cool people brunching and a general weekend feeling in the air.
We arrive at bar/cafe
Komiteti,
an ode to the country's communist era, and admire the collection of interesting artefacts jammed inside every cabinet and covering every surface. We sit on the terrace in the sun and drink our strong coffees watching the weekend foot traffic.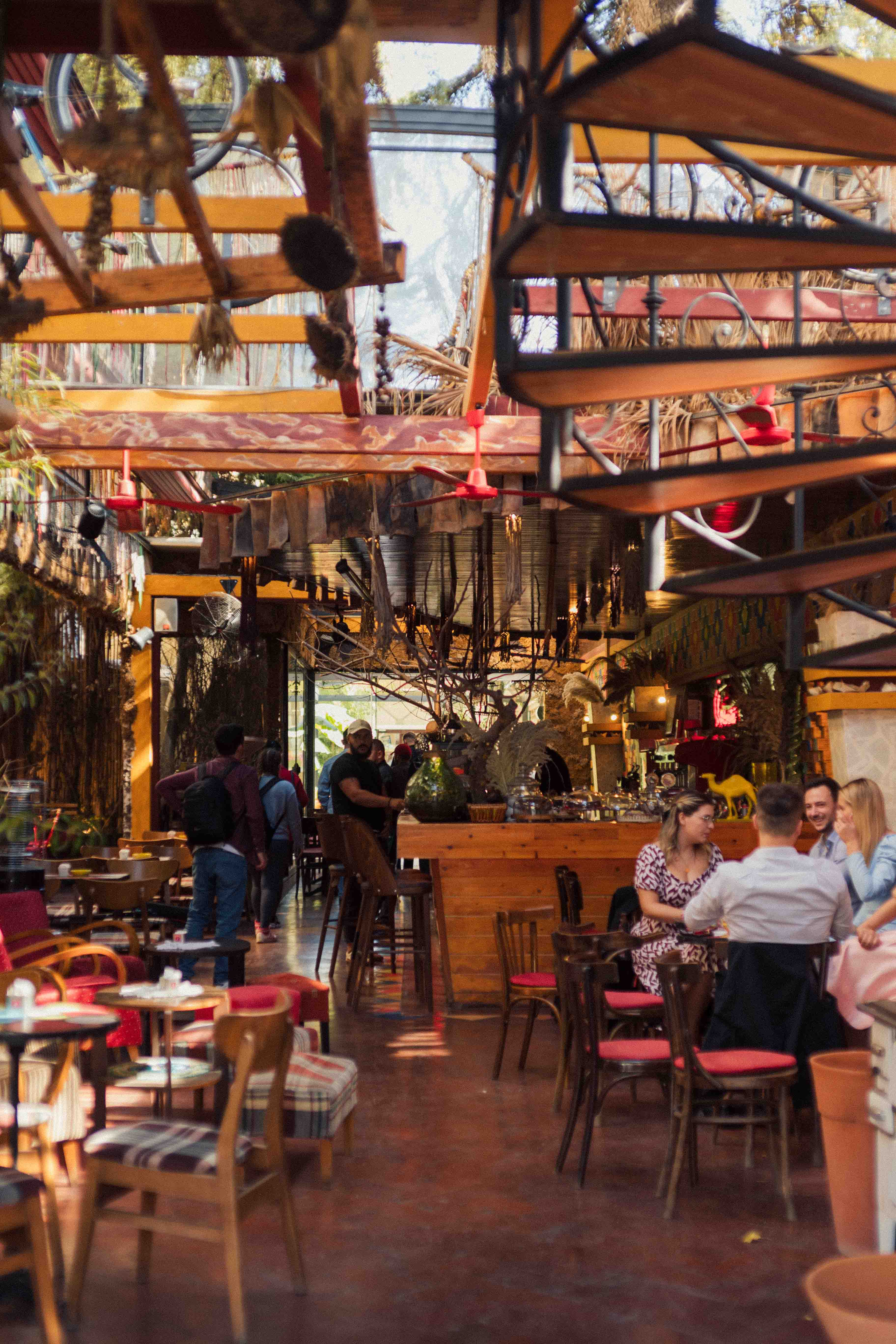 Kometiti Cafe.


We continue on a few blocks to visit
Enver Hoxha's strangely-designed former residence
situated in the now-hip Blloku neighbourhood. During Hoxha's reign, this was the wealthy side of town, where members of the corrupt leader's party lived and fraternized, out-of-bounds to all others.
A colourful Blloku building.

The property isn't open to the public so the best we can do is to peer in over the high fence protecting the perimeter. My partner, Filippo, unimpressed, exclaims, "it looks just like any other house". But I beg to differ. With manicured, thoughtfully-designed gardens and the villa's ornate exterior, the residence has a very specific 1980s, subdued luxury to it. Opulence with a touch of communist restraint and utility thrown in for good measure.
Enver Hoxha's former residence in the Blloku neighbourhood.


In its untouched state, with the curtains and blinds drawn, it feels like a mysterious time capsule, a small window into the psyche of a unhinged, tyrranical state leader. I stare at the building for a while trying to imagine what life was like when he lived here.
With plans to head out of town for the afternoon, we stop by the
Toptani Mall Food Court
wondering what an Albanian food court even looks like. Is there a Burger King? A Taco Bell?
What we find at the top of the maze of escalators is a large room with floor-to-ceiling windows and incredible views over the city. We eat good, cheap traditional Albanian food like rice-stuffed peppers, vegetable salad with pickles and grilled fish and admire the scene before us.
Views from Toptani Mall's top-floor food court.
Next, we
find the bus stop
that will take us to the
Djati Express
chairlift outside of town to head up
Djati Mountain
.
A smiling conductor roams the length of the bus, handing out paper tickets in exchange for the 40 leks (0.34 euros) it costs to ride. I find it charming that there's still a human being doing this job, that it hasn't been replaced by a machine in this country.
The bus stops for an inexplicable 10-minute break along the journey. Everyone, the conductor included, ducks into the adjacent coffee shop where he insists on shouting us both a coffee as a welcome to Albania. We gratefully accept and cheers one another.
Throughout my stay in Albania, I never feel like one-too-many-a-tourist. At best, I am a special guest invited in by warm, lively, charming locals excited that I made it here. At worst, I'm an invisible observer, but never do I feel like a tourist encroaching on someone's space.
The 0.35 euro paper bus ticket for the Tirana city bus.
We hop on the chairlift and are surprised at how long the journey lasts (20 minutes) and how far and high we travel out of the city, up and over the mountains.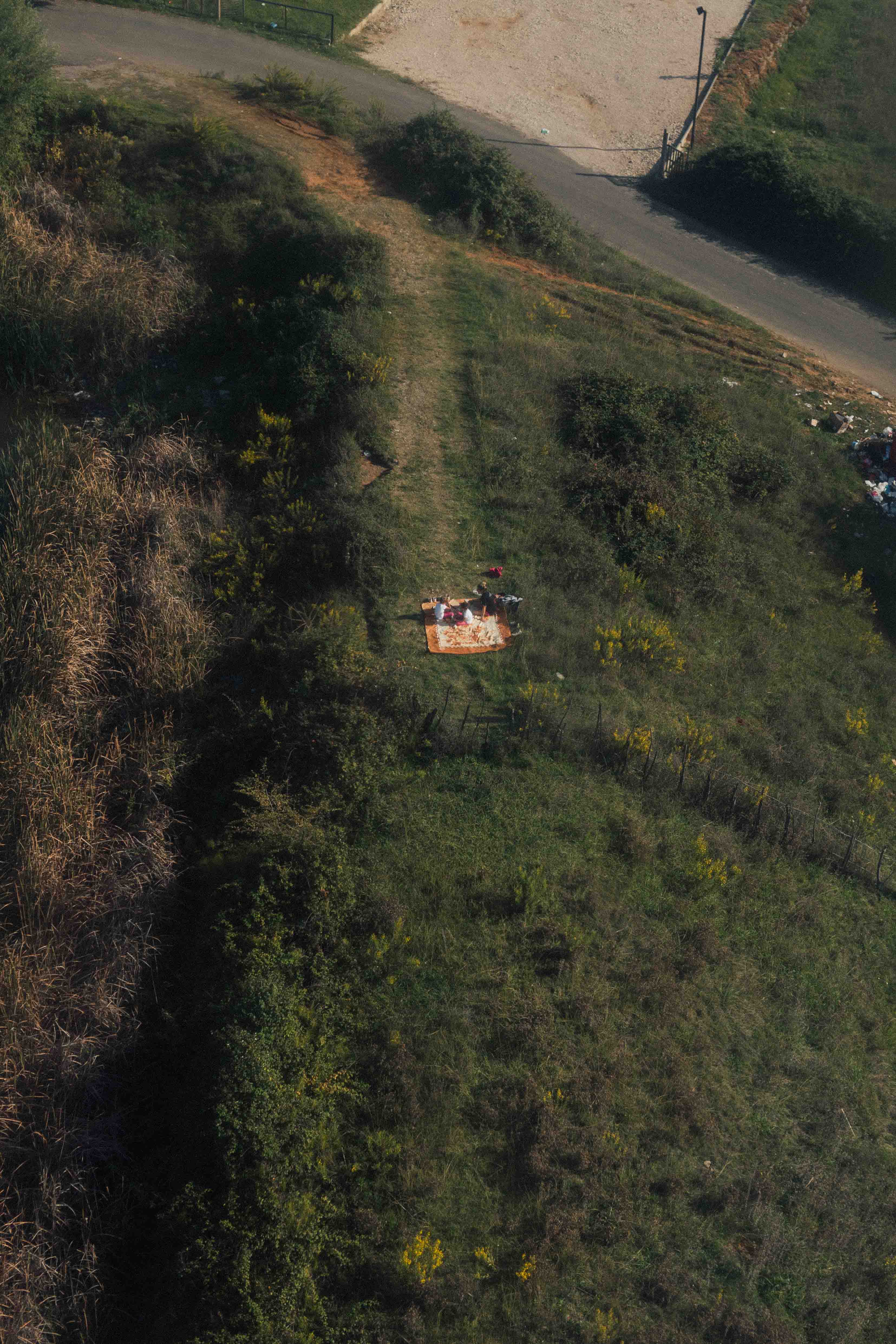 Left: Chairlift views above Tirana. Right: A countryside picnic outside Tirana spotted from the chairlift.
At the top, we pass horses you can take for a ride, a mini-golf course and incredible views back over Tirana even on this hazy day.
Unfortunately the very kitch-sounding rotating bar on the top floor of the hotel is closed but the alpine restaurant is open and we duck in for a snack.
The alpine restaurant at the top of Djati chairlift with views out over the city.
Scenes on top of Djati Mountain.
With a serious fear of heights, Filippo has such an adverse reaction to the very-high chairlift he decides to trek the 2.5-hour off-map path down the mountain rather than put himself through the experience again. We go our seperate ways, me taking the chairlift back down, and I hope I will one day see him again.
Views from the top, Djati Mountain.
After making it down the mountain and traipsing the entire eastern length of Tirana to the centre before dusk, Filippo meets me, tired but happy, and we head to famed traditional Albanian restaurant,
Oda
, for our last night in town.
Oda restaurant courtyard.
Arriving without a reservation, we only have to wait 10 minutes before we're sitting at one of the tiny rickety wooden tables, nodding and singing along with the crowd to the eight-person Albanian folk band. In the lemon-tree covered courtyard, we drink local white wine and eat feta cheese, stuffed eggplants, vegetable soup and grilled zucchini.
We go back to our Airbnb in good spirits. I already feel a fondness for this place, equal parts strange, surprising, fascinating and delightful. In the morning, we'll leave to drive south to the Albanian Riviera and its beaches.
Part II coming soon, An October Road Trip in Albania: Riviera.
Albania Map
For all the spots in these Albania stories, check out my
Google map
.